From press release
Reigning champion Mike Rockenfeller claimed pole position this Saturday ahead of the DTM race in Zandvoort. His countryman Marco Wittmann, the new champion, will start alongside him on the grid.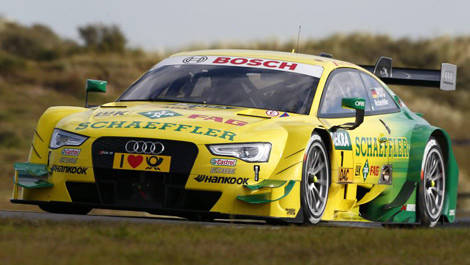 Mike Rockenfeller, Audi RS 5 (Photo: DTM.com)
"A great result," said Rockenfeller. "We knew that we would be good here.
"Moreover, the track at Zandvoort simply suits me. Once again, it was very close, as usual in the DTM."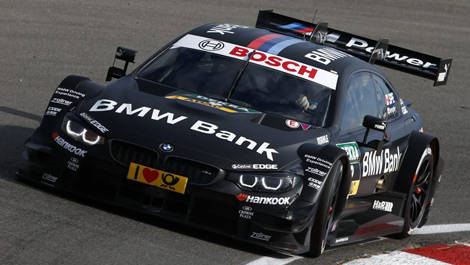 Bruno Spengler, BMW M4 DTM (Photo: DTM.com)
The duel is also thrilling considering the manufacturers' standings. Prior to the final two rounds, BMW is leading, but only 18 points ahead of Audi.
In spite of his early title win at the Lausitzring, Marco Wittmann's ambitions remain unaffected: "I am a little bit annoyed, because pole position would have been within reach," the 24-year-old said.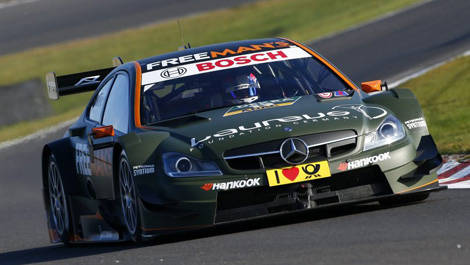 Robert Wickens, Mercedes C-Coupe (Photo: DTM.com)
"Unfortunately, I made a slight mistake that cost me the decisive time. On Sunday, I will try everything to make life as difficult as possible for Mike."
Canadians Bruno Spengler and Robert Wickens settled for 15th and 21st respectively.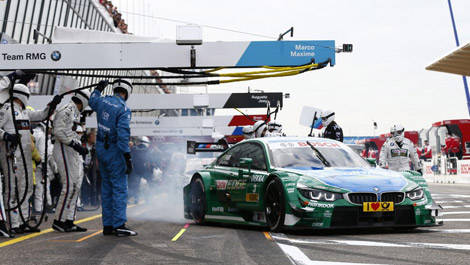 Augusto Farfus, BMW M4 DTM (Photo: DTM.com)
Qualifying results* – Zandoort (round 9 of 10)
1.Mike Rockenfeller (Audi RS5) - Phoenix - 1'30"713 - Q3
2.Marco Wittmann (BMW M4) - RMG - 1'30"739 - Q3
3.Edoardo Mortara (Audi RS5) - Abt - 1'30"757 - Q3
4.Mattias Ekstrom (Audi RS5) - Abt - 1'30"869 - Q3
5.Jamie Green (Audi RS5) - Rosberg - 1'30"957 - Q3
6.Nico Muller (Audi RS5) - Rosberg - 1'30"968 - Q3
7.Pascal Wehrlein (Mercedes C-Coupe) - HWA - 1'31"063 - Q3
8.Martin Tomczyk (BMW M4) - Schnitzer - 1'31"904 - Q3
9.Joey Hand (BMW M4) - RBM - 1'30"892 - Q2
10.Miguel Molina (Audi RS5) - Abt - 1'30"908 - Q2
11.Gary Paffett (Mercedes C-Coupe) - HWA - 1'30"965 - Q2
12.Adrien Tambay (Audi RS5) - Abt - 1'30"997 - Q2
13.Paul Di Resta (Mercedes C-Coupe) - HWA - 1'31"005 - Q2
14.Timo Glock (BMW M4) - MTEK - 1'31"027 - Q2
15.Bruno Spengler (BMW M4) - Schnitzer - 1'31"102 - Q2
16.Timo Scheider (Audi RS5) - Phoenix - 1'31"118 - Q2
17.Maxime Martin (BMW M4) - RMG - 1'31"425 - Q2
18.Christian Vietoris (Mercedes C-Coupe) - HWA - 1'31"504 - Q2
19.Antonio Felix Da Costa (BMW M4) - MTEK - 1'31"611 - Q1
20.Augusto Farfus (BMW M4) - RBM - 1'31"668 - Q1
21.Robert Wickens (Mercedes C-Coupe) - HWA - 1'31"673 - Q1
22.Daniel Juncadella (Mercedes C-Coupe) - HWA - 1'31"784 - Q1
23.Vitaly Petrov (Mercedes C-Coupe) - Mucke - 1'33"002 - Q1
*Unofficial results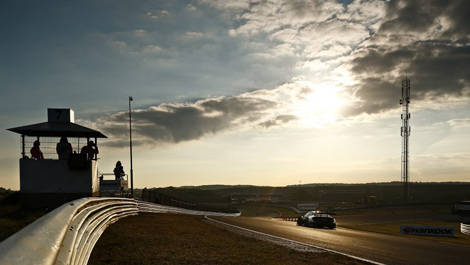 (Photo: DTM.com)