The E-Mazing Race was launched on September 3rd, 2013. The event, a collaboration between Éco-Route Québec and
Sun Country Highway
, is designed to promote the vast network of Level 2 charging stations that, for the first time in history, was created to meet future demand without waiting on the automotive industry.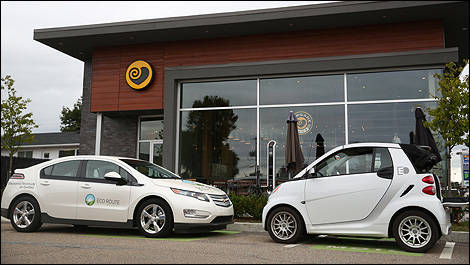 Photo: Philippe Champoux
The charging station network, which spreads from coast to coast on either side of the border, will provide participants with the unique opportunity to travel from Seattle (Washington State) to Summerside (Prince Edward Island) via an electric vehicle.
The Quebec portion was launched today at the Café Morgane Jean-XXIII, in Trois-Rivières. The trek, which ends September 20th in Summerside, will feature numerous closing activities.
Source: e-mazingrace.com