Lotus driver Kimi Raikkonen was expected to perform Thursday some media duties in the paddock of the Yas Marina circuit in Abu Dhabi. Except that the Finn has failed to show up.
During the Indian Grand Prix last Sunday, Raikkonen was disrespectfully told by radio to move over to let his teammate, Romain Grosjean pass him.
Despite the fact that team boss Eric Boullier publicly apologized Tuesday for the roughness of the language used in the radio conversations, Kimi' camp is still very upset.
Additionally, these been an ongoing matter of unpaid payments, which Raikkonen said was a key factor in him electing to join Scuderia Ferrari in 2014.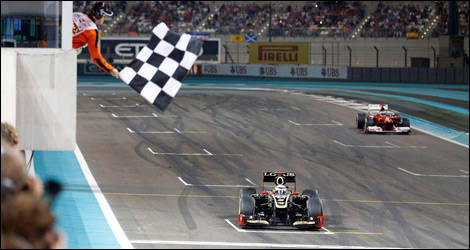 Kimi Raikkonen, winner in Abu Dhabi in 2012 with Lotus. (Photo: WRi2)
His absence in the paddock immediately sent the paddock rumour mill into high revving mode. Some people are asking if relations between driver and team had soured to such an extent that the former F1 world champion might not be seen at all in the remaining three races of the season.
Later in the afternoon, it appeared that the Finn was on board a plane on route to Abu Dhabi and he is expected to be behind the wheel of his E21 tomorrow.