Newly-crowned 2013 champion Sebastian Vettel (Red Bull) simply could not match his teammate Mark Webber's pace during qualifying ahead of the Abu Dhabi Grand Prix at the Yas Marina Circuit.
Webber edged the four-time world champion in each of the three sessions to earn pole.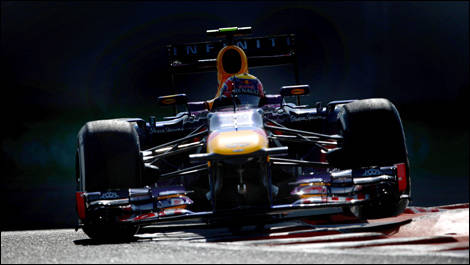 Mark Webber, Red Bull RB9, Yas Marina Circuit (Photo: GEPA pictures)
Despite being unusually slow compared to the retiring Australian, Vettel managed the second-best performance and at least gets to start beside him on the front row of the grid.
Spaniard Fernando Alonso (Ferrari) produced like Vettel a subpar performance. A rare mistake in Q2 ended his day early as he settled for 11th on the grid.
Mercedes teammates Nico Rosberg and Lewis Hamilton fill the second row, despite the 2008 world champion spinning out of Q3. His mistake near the end of the session brought out yellow flags, which ruined Romain Grosjean's (Lotus) last flying lap.
Teammate Kimi Raikkonen and Sauber's Nico Hulkenberg leaped ahead on the time sheet, leaving the Frenchman seventh.
Felipe Massa (Ferrari), Sergio Perez (McLaren) and Daniel Ricciardo (Toro Rosso) complete the top 10.
Qualifying results* – Abu Dhabi Grand Prix (Yas Marina)
1.Mark Webber (Red Bull Racing-Renault) – 1min39.957s – Q3
2.Sebastian Vettel (Red Bull Racing-Renault) – 1min40.075s – Q3
3.Nico Rosberg (Mercedes) – 1min40.419s – Q3
4.Lewis Hamilton (Mercedes) – 1min40.501s – Q3
5.Kimi Raikkonen (Lotus Renault) – 1min40.542s – Q3
6.Nico Hulkenberg (Sauber-Ferrari) 1min40.576s – Q3
7.Romain Grosjean (Lotus-Renault) – 1min40.997s – Q3
8.Felipe Massa (Ferrari) – 1min41.015s – Q3
9.Sergio Perez (McLaren-Mercedes) – 1min41.068s – Q3
10.Daniel Ricciardo (STR-Ferrari) – 1min41.111s – Q3
11.Fernando Alonso (Ferrari) – 1min41.093s – Q2
12.Paul di Resta (Force India-Mercedes – 1min41.133s – Q2
13.Jenson Button (McLaren-Mercedes) – 1min41.200s – Q2
14.Jean-Eric Vergne (STR-Ferrari) – 1min41.279s – Q2
15.Pastor Maldonado (Williams-Renault) – 1min41.395s – Q2
16.Valtteri Bottas (Williams-Renault) – 1min41.447s – Q2
17.Esteban Gutierrez (Sauber-Ferrari) – 1min41.999s – Q1
18.Adrian Sutil (Force India-Mercedes) – 1min42.051s – Q1
19.Giedo van der Garde (Caterham-Renault) – 1min43.252s – Q1
20.Charles Pic (Caterham-Renault) – 1min43.528s – Q1
21.Max Chilton (Marussia-Cosworth) – 1min44.198s – Q1
22.Jules Bianchi (Marussia-Cosworth) – 1min43.398s – Q1**
*Unofficial results**Five-place grid penalty for unscheduled gearbox change