From GMM
World champion Sebastian Vettel has been told to step on the gas by Red Bull's technical 'genius' Adrian Newey.
German Vettel has borne the brunt of the team's reliability troubles in 2014, but his superiority has also been genuinely challenged by Red Bull newcomer Daniel Ricciardo.
Asked if that has surprised him, Vettel said in Montreal: "Actually no.
"It is good to see that Daniel fits in well with the team and has similar tastes to me when it comes to tuning the car. And it's nice to see that he does a good job. In the first few races I've had problems with many things, but it's comforting to realise that he is able to use the potential of the car," he is quoted by
Speed Week
.
Asked if he has at times been watching Ricciardo's style and telemetry, Vettel smiled: "All the time!
"There are clearly areas where he is very fast, so it's good to have a reference in relation to our car. For me, it has not been the best year so far. With Mark (Webber), it was always the case that he was very good in the fast corners, as he sometimes was showing me the limits. But with Daniel and me, it is quite balanced," added Vettel.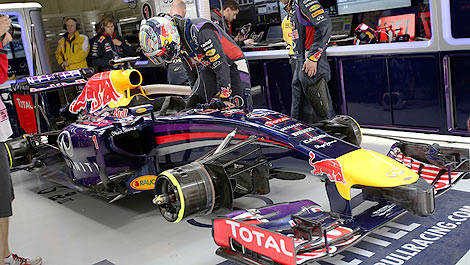 Sebastian Vettel, Red Bull RB10. (Photo: WRi2)
According to Dr Helmut Marko, the staunch Vettel ally and Red Bull director, Vettel is driving as well as ever in 2014.
"There's nothing wrong with him," he told
Die Welt
newspaper.
"He has just had a lot of bad luck. He is a strong guy, but the whole situation is not easy for him. If you ask me about his driving skills, there are no problems at all."
But Adrian Newey, Red Bull's highly respected technical boss, suggested there is "no more time to lose" as Vettel gets up to speed with F1's all-new era.
"Sebastian must quickly learn how to drive this car. There is no more time to lose," the Briton is quoted by Italy's
Tuttosport
.
"We will do everything to give him a car that fits his driving style," Adrian Newey added, "but then it's up to him to go faster."