From GMM
Ferrari could be set for yet another change right at the top of the Maranello marque.
The departure of long-time president Luca di Montezemolo recently, with Fiat Chrysler chairman Sergio Marchionne taking over, made huge media waves.
But it might not be the final act.
Recently, as the looming Montezemolo exit became reality, a member of the influential Agnelli family backed the controversial news.
Andrea Agnelli, whose uncle was the great Fiat figurehead Gianni Agnelli, had said it was "right" that Ferrari's efforts to improve "involves new people".
He was speaking as president of the Juventus football club.
But now, the Italian newspaper
Libero
claims 38-year-old Agnelli, already a Fiat board member, is set to become Montezemolo's long-term successor as Ferrari president.
The rumour was stated by Luciano Moggi, a former Juventus chief.
"Informed rumours say that the wily strategists at Fiat are thinking that to revitalise Ferrari there is no one better than a winner like Andrea," he said.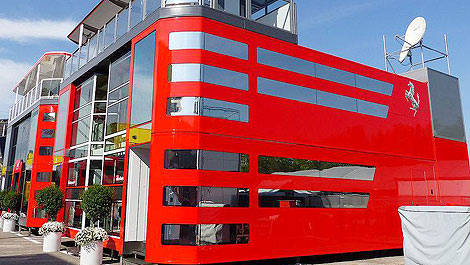 Motorhome Ferrari. (Photo: WRi2)