Vodafone McLaren Team has released this funny video to promote their latest contest organized by Mobil 1.
In this video, several actual members of the McLaren team play their own roles, such as Sam Michael, Martin Whitmarsh, Jonathan Neale and pit stop crew members.
The "Mobil 1 get personal competition with Vodafone McLaren" offers the ultimate prize - a money-can't-buy opportunity to spend the day up close and personal with the Vodafone McLaren Mercedes team, at the U.S. Grand Prix in Austin.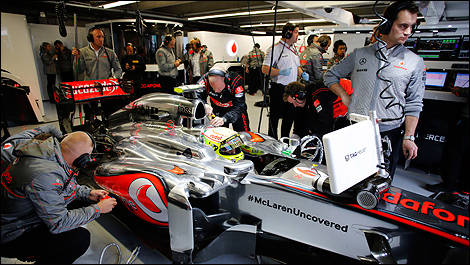 Sergio Perez, McLaren garage (Photo: McLaren)
As a special guest of the team, the winner will get to spend the day trackside, right at the heart of the action.
The rules of the contest state that if you're not lucky enough to win the top prize, you can still get close to motorsports by winning a selection of merchandise that you'd never normally get your hands on - from gear cogs off the race cars themselves through to replica helmets and scale models of the cars.
To enter the competition and win a money-can't-buy experience at the Austin Grand Prix go to
http://www.mobil1.co.uk/getpersonal
.