From press release
Nico Rosberg claimed his first pole position of the 2014 F1 season by beating his Mercedes teammate Lewis Hamilton, Saturday, during qualifying ahead of the first ever night Formula One race in Bahrain.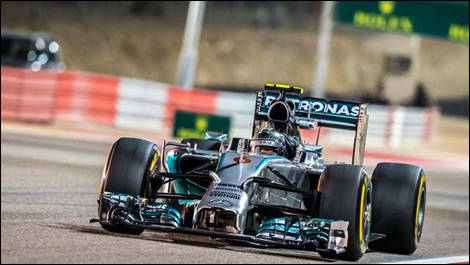 Nico Rosberg, Mercedes W05 (Photo: WRi2)
Mercedes has been dominant all weekend so far, with both Rosberg and Hamilton able to advance to Q2 without even using the faster soft tire. In the end, the German was more than two tenths faster than his teammate, with a time of 1min33.185s around the Sakhir Circuit.
A total of seven Mercedes-powered cars qualified in the top 10.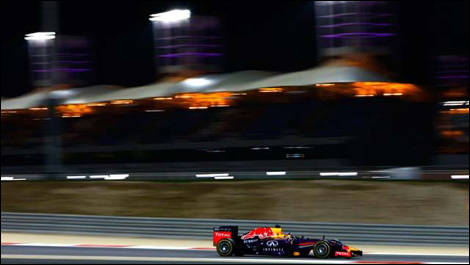 Sebastian Vettel, Red Bull RB10 (Photo: WRi2)
"It's fantastic to be on pole again here in Bahrain," said the Rosberg, who was also set the pole last year.
"I really enjoy the track and I won my GP2 Series title here so it has some pretty special memories for me. We've had a good weekend so far (so) I'm looking forward to the race."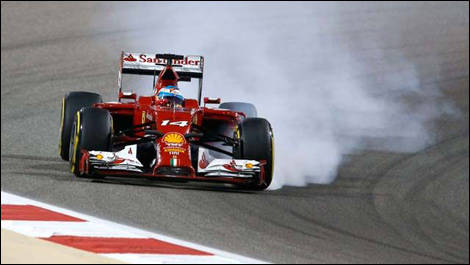 Fernando Alonso, Ferrari F14-T (Photo: WRi2)
"Second place is pretty good for us today," added Hamilton. "I made a mistake on my last lap which was a shame but it's great for the team to have both cars on the front row.
"Congratulations to Nico today, he's done a great job so far this weekend and nailed a really quick lap in qualifying. I'm happy that it's my team-mate there on pole and not someone else!"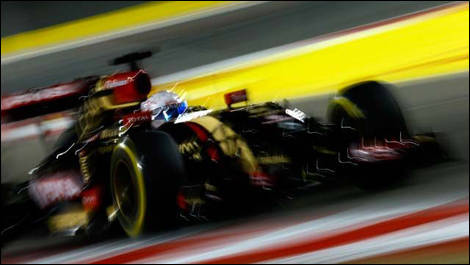 Romain Grosjean, Lotus E22 (Photo: WRi2)
"Nico drove a superb lap on his first run in Q3 and Lewis clearly sensed he had to push to the limit to match his teammate," analyzed Mercedes' Paddy Lowe. "Unfortunately this lead to a mistake at the first corner but his initial lap was still good enough to maintain second."
As part of the track's 10th anniversary, the 22-car field will take the start of tomorrow's race after sundown, for the first ever night F1 race in Bahrain.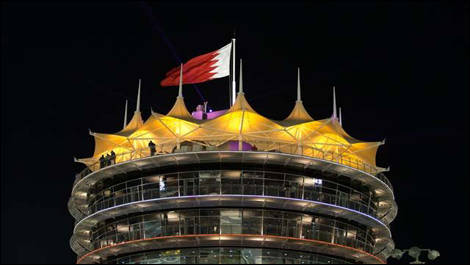 Bahrain by night (Photo: WRi2)
Qualifying results* – Bahrain Grand Prix (round 3 of 19)
1.Nico Rosberg (Mercedes W05) - 1'33"185 – Q3
2.Lewis Hamilton (Mercedes W05) – 1'33"464 – Q3
3.Valtteri Bottas (Williams FW36-Mercedes) - 1'34"247 – Q3
4.Sergio Perez (Force India VJM07-Mercedes) – 1'34"346 – Q3
5.Kimi Raikkonen (Ferrari F14-T) - 1'34"368 – Q3
6.Jenson Button (McLaren MP4/29-Mercedes) - 1'34"387 – Q3
7.Felipe Massa (Williams FW36-Mercedes) - 1'34"511 – Q3
8.Kevin Magnussen (McLaren MP4/29-Mercedes) - 1'34"712 – Q3
9.Fernando Alonso (Ferrari F14-T) - 1'34"992 – Q3
10.Sebastian Vettel (Red Bull RB10-Renault) - 1'34"985 – Q2
11.Nico Hulkenberg (Force India VJM07-Mercedes) - 1'35"116 – Q2
12.Daniil Kvyat (Toro Rosso STR9-Renault) - 1'35"145 – Q2
13.Daniel Ricciardo (Red Bull RB10-Renault) - 1'34"051 – Q3 **
14.Jean-Eric Vergne (Toro Rosso STR9-Renault) - 1'35"286 – Q2
15.Esteban Gutierrez (Sauber C33-Ferrari) - 1'35"891 – Q2
16.Romain Grosjean (Lotus E22-Renault) – 1'35"908 – Q2
17.Pastor Maldonado (Lotus E22-Renault) – 1'36"663 – Q1
18.Adrian Sutil (Sauber C33-Ferrari) - 1'36"840 – Q1
19.Kamui Kobayashi (Caterham CT05-Renault) – 1'37"085 – Q1
20.Jules Bianchi (Marussia MR03-Ferrari) - 1'37"310 – Q1
21,Marcus Ericsson (Caterham CT05-Renault) – 1'37"875 – Q1
22.Max Chilton (Marussia MR03-Ferrari) - 1'37"913 – Q1
*Unofficial timing
**10-place grid penalty from Malaysia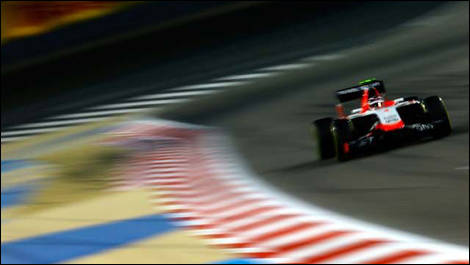 Max Chilton, Marussia MR03 (Photo: WRi2)