German driver Nico Rosberg set the pace today in his Mercedes AMG W04 in the initial two wet free practice sessions of the Brazilian Grand Prix at Interlagos near Sao Paulo.
Rain fell all day long and prevented the teams to properly test put to the test the 2014 prototype tires Pirelli had brought.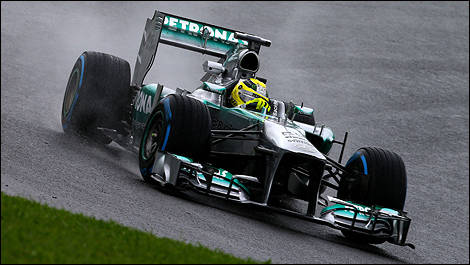 Nico Rosberg, Mercedes AMG (Photo: WRI2)
Rosberg set a lap of 1m24.781 to go almost half-a-second faster than his teammate Lewis Hamilton but the times were about 10-second slower than the corresponding P1 session a year ago.
Sebastian Vettel of Red Bull Racing, who is looking to claim a ninth straight victory this weekend, ended the session third fastest with his teammate Mark Webber in sixth place.
Behind Vettel came Jenson Button, fourth fastest for McLaren, and Ferrari's Fernando Alonso.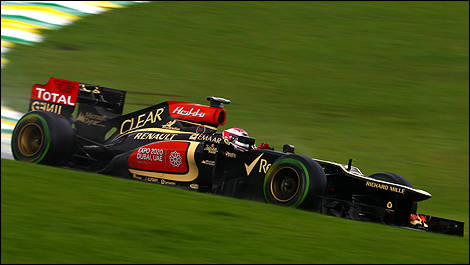 Heikki Kovalainen, Lotus (Photo: WRI2)
Button's teammate Sergio Perez was seventh fastest ahead of rookie Daniil Kvyat, who appeared to have no problem coping with the tricky track conditions on what was his second Friday appearance for Toro Rosso.
Rosberg again set the fastest of the wet second session held under grey and black clouds.
Such were the treacherous conditions, that Vettel, Hamilton, Alonso and Massa elected to sit out the worst of the running completely and didn't leave the garage until the final 20 minutes when the rain had eased marginally, but sufficiently, for the drivers to switch back to intermediates.
Vettel held the fastest time until Rosberg beat him in the closing moments of the session.
Webber ranked third in his Red Bull RB9, beating Lotus stand-in Heikki Kovalainen, the Finn putting his E21 at the end of his opening day of driving the car in the wet.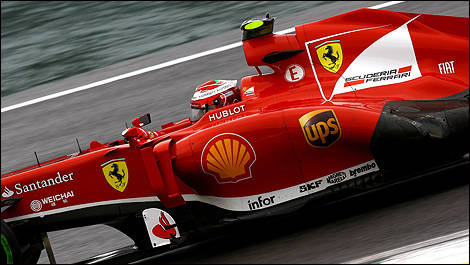 Felipe Massa, Ferrari (Photo: WRI2)
Lewis Hamilton finished 0.8s back on teammate Rosberg in fifth, the Briton spinning in the wet late on for the second successive session, with Jean-Eric Vergne sixth for Toro Rosso ahead of Felipe Massa (Ferrari) and Nico Hulkenberg (Sauber).
2013 Brazilian Grand Prix, Interlagos, 1st practice session*:
1 - Nico Rosberg (Mercedes W04) - 1'24"781 – 14 laps
2 - Lewis Hamilton (Mercedes W04) - 1'25"230 - 13
3 - Sebastian Vettel (Red Bull RB9-Renault) - 1'25"387 - 17
4 - Jenson Button (McLaren MP4-28-Mercedes) - 1'25"391 - 25
5 - Fernando Alonso (Ferrari F138) - 1'25"593 - 13
6 - Mark Webber (Red Bull RB9-Renault) - 1'25"797 - 17
7 - Sergio Perez (McLaren MP4-28-Mercedes) - 1'25"946 - 15
8 - Daniil Kvyat (Toro Rosso STR8-Ferrari) - 1'26"064 - 17
9 - Heikki Kovalainen (Lotus E21-Renault) - 1'26"133 - 31
10 - Nico Hulkenberg (Sauber C32-Ferrari) - 1'26"232 - 17
11 - Felipe Massa (Ferrari F138) - 1'26"248 - 15
12 - Esteban Gutierrez (Sauber C32-Ferrari) - 1'26"326 - 28
13 - Romain Grosjean (Lotus E21-Renault) - 1'26"570 - 28
14 – Jean Eric Vergne (Toro Rosso STR8-Ferrari) - 1'26"593 - 22
15 - Adrian Sutil (Force India VJM06-Mercedes) - 1'27"115 - 25
16 - Valtteri Bottas (Williams FW35-Renault) - 1'27"269 - 23
17 - Pastor Maldonado (Williams FW35-Renault) - 1'27"358 - 23
18 – James Calado (Force India VJM06-Mercedes) - 1'27"436 - 9
19 – Giedo Van der Garde (Caterham CT03-Renault) - 1'28"107 - 18
20 - Charles Pic (Caterham CT03-Renault) - 1'28"199 - 17
21 – Jules Bianchi (Marussia MR02-Cosworth) - 1'30"004 - 24
22 - Max Chilton (Marussia MR02-Cosworth) - 1'32"646 – 19
2013 Brazilian Grand Prix, Interlagos, 12nd practice session*:
1 - Nico Rosberg (Mercedes W04) - 1'27"306 – 12 laps
2 - Sebastian Vettel (Red Bull RB9-Renault) - 1'27"531 - 10
3 - Mark Webber (Red Bull RB9-Renault) - 1'27"592 - 18
4 - Heikki Kovalainen (Lotus E21-Renault) - 1'28"129 - 13
5 - Lewis Hamilton (Mercedes W04) - 1'28"147 - 9
6 – Jean Eric Vergne (Toro Rosso STR8-Ferrari) - 1'28"405 - 11
7 - Felipe Massa (Ferrari F138) - 1'28"540 - 9
8 - Nico Hulkenberg (Sauber C32-Ferrari) - 1'28"560 - 20
9 - Daniel Ricciardo (Toro Rosso STR8-Ferrari) - 1'28"739 - 20
10 - Romain Grosjean (Lotus E21-Renault) - 1'28"891 - 12
11 - Fernando Alonso (Ferrari F138) - 1'28"928 - 10
12 - Esteban Gutierrez (Sauber C32-Ferrari) - 1'29"049 - 17
13 – Paul Di Resta (Force India VJM06-Mercedes) - 1'29"174 - 11
14 - Pastor Maldonado (Williams FW35-Renault) - 1'29"717 - 13
15 - Adrian Sutil (Force India VJM06-Mercedes) - 1'29"783 - 7
16 - Valtteri Bottas (Williams FW35-Renault) - 1'30"425 - 15
17 - Sergio Perez (McLaren MP4/28-Mercedes) - 1'30"748 - 8
18 – Jules Bianchi (Marussia MR02-Cosworth) - 1'31"061 - 18
19 – Giedo Van der Garde (Caterham CT03-Renault) - 1'31"118 - 16
20 - Charles Pic (Caterham CT03-Renault) - 1'31"165 - 15
21 - Max Chilton (Marussia MR02-Cosworth) - 1'31"211 - 19
22 - Jenson Button (McLaren MP4/28-Mercedes) - 1'31"770 - 6
*Unofficial timing