From press release
Mercedes' Lewis Hamilton recorded his third pole position in four races this season, beating Red Bull's Daniel Ricciardo to the first spot on the grid ahead of this weekend's Chinese Grand Prix.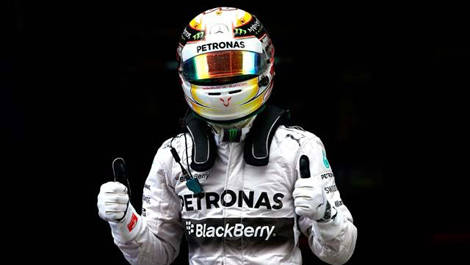 Lewis Hamilton (Photo: WRi2)
"It was a tough session today," said Hamilton.
Indeed, it was another wet day in Shanghai. The rain did ease off after Q1, but not enough to change to slick tires.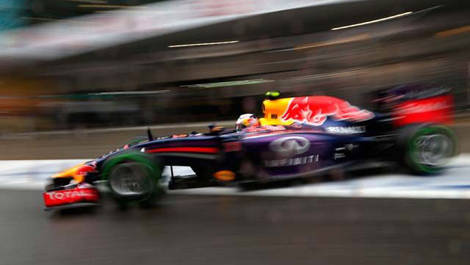 Daniel Ricciardo, Red Bull RB10 (Photo: WRi2)
"Our rivals look closer in the wet conditions, so we'll be hoping it's a dry race to take advantage of the position we're in," added the pole-sitter.
"We go into the race with a little bit of an unknown because after I struggled in practice on Friday. We made a lot of changes to the car and I haven't yet had a chance to try them in the dry."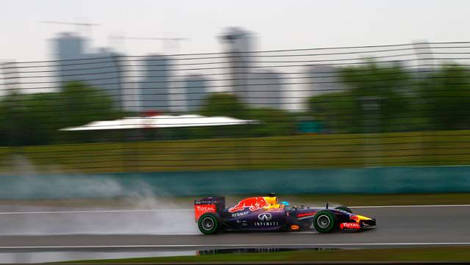 Sebastian Vettel, Red Bull RB10 (Photo: WRi2)
His 34th career pole position puts Hamilton atop the all-time list for British drivers.
Aboard the second Silver Arrow, Nico Rosberg qualified only fourth. The other driver to get in between him and Hamilton was Ricciardo's teammate, Sebastian Vettel, who qualified third.
"Fourth place is not a disaster," said the German. "I was quick on Friday doing the race preparation so I am still confident that there is everything to play for tomorrow."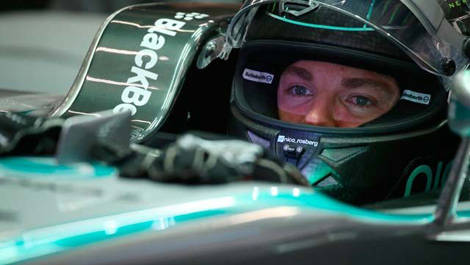 Nico Rosberg (Photo: WRi2)
Qualifying Results* – Chinese Grand Prix (round 4 of 19)
1.Lewis Hamilton (Mercedes W05) - 1'53"860 - Q3
2.Daniel Ricciardo (Red Bull RB10-Renault) - 1'54"455 - Q3
3.Sebastian Vettel (Red Bull RB10-Renault) - 1'54"960 - Q3
4.Nico Rosberg (Mercedes W05) - 1'55"143 - Q3
5.Fernando Alonso (Ferrari F14-T) - 1'55"637 - Q3
6.Felipe Massa (Williams FW36-Mercedes) - 1'56"147 - Q3
7.Valtteri Bottas (Williams FW36-Mercedes) - 1'56"282 - Q3
8.Nico Hulkenberg (Force India VJM07-Mercedes) - 1'56"366 - Q3
9.Jean-Eric Vergne (Toro Rosso STR9-Renault) - 1'56"773 - Q3
10.Romain Grosjean (Lotus E22-Renault) - 1'57"079 - Q3
11.Kimi Raikkonen (Ferrari F14-T) - 1'56"860 - Q2
12.Jenson Button (McLaren MP4/29-Mercedes) - 1'56"963 - Q2
13.Daniil Kvyat (Toro Rosso STR9-Renault) - 1'57"289 - Q2
14.Adrian Sutil (Sauber C33-Ferrari) - 1'57"393 - Q2
15.Kevin Magnussen (McLaren MP4/29-Mercedes) - 1'57"675 - Q2
16.Sergio Perez (Force India VJM07-Mercedes) - 1'58"264 - Q2
17.Esteban Gutierrez (Sauber C33-Ferrari) - 1'58"988 - Q1
18.Kamui Kobayashi (Caterham CT05-Renault) - 1'59"260 - Q1
19.Jules Bianchi (Marussia MR03-Ferrari) . 1'59"326 - Q1
20.Marcus Ericsson (Caterham CT05-Renault) - 2'00"646 - Q1
21.Max Chilton (Marussia MR03-Ferrari) - 2'00"885 - Q1
22.Pastor Maldonado (Lotus E22-Renault) - no time - Q1
Unofficial timing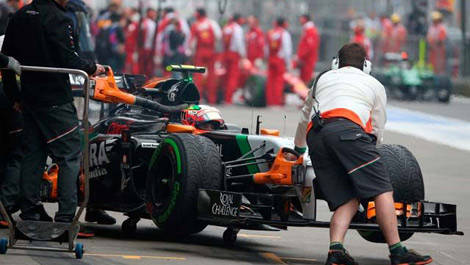 Nico Hulkenberg, Force India VJM07 (Photo: WRi2)