Brazilian driver Felipe Massa thinks the new Williams FW36 has the potential to lead the chase to the mighty Mercedes W05.
At the season opener in Australia, Massa's race was ruined when he was rear ended at the first corner by Kamui Kobayashi's Caterham.
His teammate Valtteri Bottas drove like a man possessed until he needed to pit to replace a punctured tire. The Finn eventually finished 5th.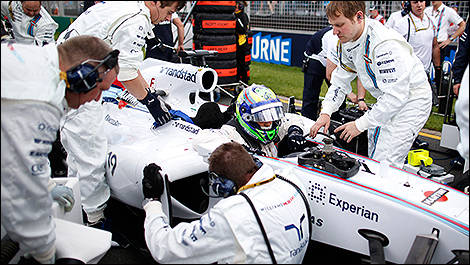 Felipe Massa, Williams (Photo: Martini Williams Racing)
When asked whether Williams are 'best of the rest', the Brazilian replied: "I think it's not impossible. I think McLaren definitely did a good race, they finished both cars in the good points and they're leading the championship.
"Everything is possible now and looking how we are compared to the others, I would say Mercedes is for the moment too quick compared to us. But I think maybe after Mercedes, everything is open and maybe we can be there," said the former Ferrari driver.
Despite a small lack of overall downforce, the Mercedes-powered FW36 is already quite impressive.
"There is still a huge margin to improve and I'm really pushing the team to go in a direction where the car will be better," Massa declared.
"There is a lot to do but looking where we are, it's a good start. In extreme conditions, we suffer a lot more than the other teams. It's not the rain; it's something else that's making these problems," Massa indicated.
He concluded by saying that new parts should make the Williams more competitive in the next Grand Prix in Malaysia.