Ferrari driver Fernando Alonso finished on the podium Sunday in China but made it clear that it will be very difficult to beat Mercedes in the title chase this year.
Although the Spaniard' Ferrari F14 T finished the race in third place behind the two Mercedes, it could not match their pace.
Briton Lewis Hamilton won a third race in a row and his teammate Nico Rosberg lies first in the standings with 79 points, compared to 41 for Alonso.
"At the moment, it seems very far away because [Mercedes] have a big advantage and we need to work really hard if we want to have that possibility," Alonso told
Sky Sports F1
.
"There is nothing really special we can do, just don't give up; we're in the fourth race in the championship, there's still a long way go but being super-realistic, knowing that the gap is very, very big it's going to be very tough."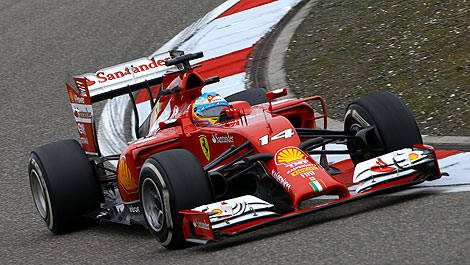 Fernando Alonso, Ferrari F14 T, in China. (Photo: WRi2)
Fernando Alonso confirmed that the new parts the team brought in China worked well and made the car a little more competitive.
But with any gains Ferrari might make unlikely to help them challenge Mercedes anytime soon, Alonso admitted that they "cannot promise anything for Barcelona".
"We will give 100 per cent again and we will fight - but in terms of result we need to remain very calm and see how development is these three weeks if we can bring some extra new parts," he concluded.