Scuderia Ferrari has declared it will not make an announcement about its 2014 drivers line-up during the Italian Grand Prix held next weekend at Autodromo di Monza.
In a press release posted on the team's official web site, Ferrari says "No decisions have yet been taken. Furthermore, as happens in the best families, important decisions are taken together at the right moment and not because a certain date on the calendar has been reached."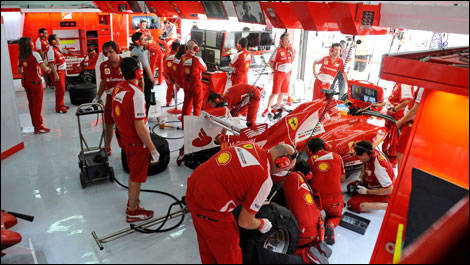 Photo: Ferrari
The future of Brazilian Felipe Massa with Ferrari is still unsure after a disappointing 2013 season so far.
Last year the Italian team waited until mid-October before announcing a one-year extension on Massa's contract.
Ferrari F1 team boss, Stefano Domenicali told the official F1 site on Wednesday: "Everybody wants to drive for Ferrari. We have to wait and see."
"My favourite choice would be, of course, to keep Felipe because Felipe is a very good guy – very dedicated to the team – and when you look around there are not so many drivers out there that you swap and they immediately deliver.
"But, of course, we need good results from Felipe, so that's why we will not rush as we have to make the right decision for the team. As soon as we have made up our minds we will announce it officially to silence the rumours once and for all," Domenicali added.
"I know it's hard for people to believe," Domenicali also told Brazil's O Estado de S.Paulo newspaper, "but we haven't really stopped yet to think about it".
"Do you know why? Because we have no hurry."