From GMM (story updated, see below)
FIFA, the governing body of world football, "wants to ban" Nico Rosberg's special helmet livery for the German grand prix.
Earlier this week, delighted with the national team's world cup victory in Brazil, Mercedes driver Rosberg announced he will wear a "special edition helmet" this weekend in Hockenheim.
The 29-year-old German revealed on social media that the livery includes an image of "the FIFA trophy".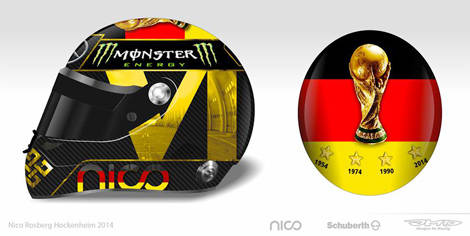 Photo: Facebook/Nico Rosberg
But according to the major German daily
Bild-Zeitung
, FIFA "wants to ban" Rosberg from wearing it.
Indeed, in its public guidelines, FIFA warns that it vigorously protects the 'official marks' of the world cup, including the image of the famous golden trophy.
"Any unauthorised use of the official marks not only undermines the integrity of the FIFA world cup and its marketing programme," said FIFA, "but also puts the interests of the worldwide football community at stake."
UPDATE
Nico Rosberg has modified his proposed world cup-themed helmet ahead of the German grand prix.
Rosberg's public relations manager Georg Nolte confirmed: "There will be an update on Nico's Germany helmet design today.
"(It) will be without (the) world cup trophy, but (now) with four stars on it."
The four stars correspond to each of Germany's world cup wins, in 1954, 1974, 1990 and now 2014.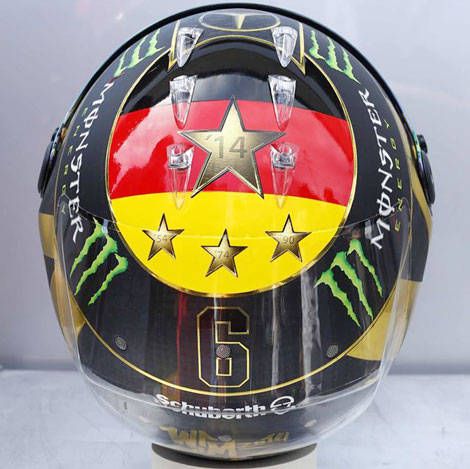 Helmet adjusted for the German Grand Prix. (Photo: Facebook/Nico Rosberg)