Mercedes' Lewis Hamilton set the fastest time in this morning free practice session in Monaco, while Ferrari's Fernando Alonso set the pace during free practice 2.
With Lewis Hamilton and Nico Rosberg first and second fastest for Mercedes, the first session under unexpectedly overcast skies in Monaco gave the impression that little has changed in the F1 pecking order.
However, a big lunchtime hailstorm had led teams to tread carefully for the majority of the session.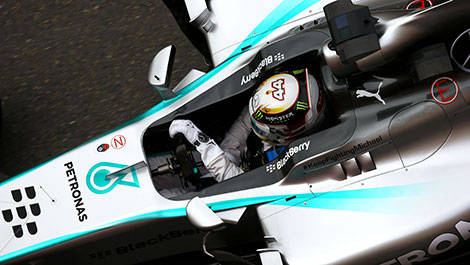 Lewis Hamilton, Mercedes AMG. (Photo: WRi2)
Ferrari's Fernando Alonso emerged on top in a late scramble for quick laps on a dry track.
The Spaniard displayed supreme car control on the Pirelli super soft tires to clock a best time of 1m18.482.
Morning pacesetter and championship leader Lewis Hamilton was second for Mercedes - his P1 time still standing as the quickest of the day despite being set on the slower softs - with Sebastian Vettel third for Red Bull Racing.
Nico Rosberg ended up down in 20th place, however.
Toro Rosso's Jean-Eric Vergne was fourth ahead of the lead Williams of Valtteri Bottas with the Sahara Force India pair next up.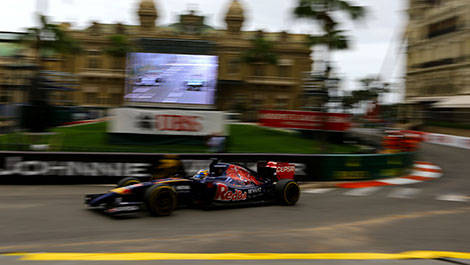 Jean-Eric Vergne, Toro Rosso-Renault. (Photo: WRi2)
Jenson Button was eighth for McLaren having earlier led the way on the intermediates.
The other Ferrari of Raikkonen soon ran into trouble when the gearbox in his F14 T failed.
Grand Prix of Monaco

Free Pratice 1 - Results*

1 - Lewis Hamilton (Mercedes W05) - 1m18.271 - 31 laps
2 - Nico Rosberg (Mercedes W05) - 1m18.303 - 30
3 - Daniel Ricciardo (Red Bull RB10-Renault) - 1m18.506 - 37
4 - Fernando Alonso (Ferrari F14 T) - 1m18.930 - 31
5 - Sebastian Vettel (Red Bull RB10-Renault) - 1m19.043 - 33
6 - Kimi Raikkonen (Ferrari F14 T) - 1m19.467 - 31
7 - Valtteri Bottas (Williams FW36-Mercedes) - 1m19.494 - 31
8 - Sergio Perez (Sahara Force India VJM07-Mercedes) - 1m19.666 - 29
9 - Kevin Magnussen (McLaren MP4-29-Mercedes) - 1m19.789 - 29
10 - Nico Hulkenberg (Sahara Force India VJM07-Mercedes) - 1m19.856 - 38
11 - Jenson Button (McLaren MP4-29-Mercedes) - 1m20.033 - 35
12 - Esteban Gutierrez (Sauber C33-Ferrari) - 1m20.118 - 33
13 - Romain Grosjean (Lotus E22-Renault) - 1m20.207 - 33
14 - Pastor Maldonado (Lotus E22-Renault) - 1m20.241 - 38
15 - Jean-Eric Vergne (Toro Rosso STR9-Renault) - 1m20.260 - 36
16 - Felipe Massa (Williams FW36-Mercedes) - 1m20.517 - 25
17 - Adrian Sutil (Sauber C33-Ferrari) - 1m20.736 - 18
18 - Daniil Kvyat (Toro Rosso STR9-Renault) - 1m20.914 - 37
19 - Jules Bianchi (Marussia MR03-Ferrari) - 1m21.310 - 27
20 - Marcus Ericsson (Caterham CT05-Renault) - 1m22.063 - 40
21 - Kamui Kobayashi (Caterham CT05-Renault) - 1m22.492 - 38
22 - Max Chilton (Marussia MR03-Ferrari) - 1m25.817 - 7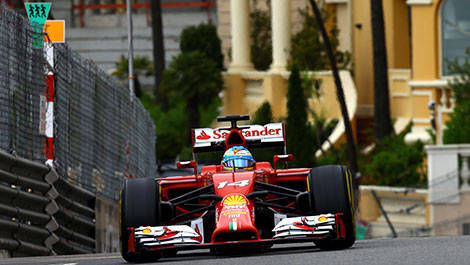 Fernando Alonso, Ferrari. (Photo: WRi2)
Free Pratice 2 - Results*

1 - Fernando Alonso (Ferrari F14 T) - 1m18.482 - 15 laps
2 - Lewis Hamilton (Mercedes W05) - 1m18.901 - 12
3 - Sebastian Vettel (Red Bull RB10-Renault) - 1m19.017 - 15
4 - Jean-Eric Vergne (Toro Rosso STR9-Renault) - 1m19.351 - 14
5 - Valtteri Bottas (Williams FW36-Mercedes) - 1m19.421 - 9
6 - Sergio Perez (Sahara Force India VJM07-Mercedes) - 1m19.668 - 9
7 - Nico Hulkenberg (Sahara Force India VJM07-Mercedes) - 1m19.712 - 10
8 - Jenson Button (McLaren MP4-29-Mercedes) - 1m19.721 - 16
9 - Daniel Ricciardo (Red Bull RB10-Renault) - 1m19.779 - 11
10 - Kevin Magnussen (McLaren MP4-29-Mercedes) - 1m20.230 - 16
11 - Felipe Massa (Williams FW36-Mercedes) - 1m20.394 - 8
12 - Daniil Kvyat (Toro Rosso STR9-Renault) - 1m20.622 - 13
13 - Adrian Sutil (Sauber C33-Ferrari) - 1m20.811 - 8
14 - Pastor Maldonado (Lotus E22-Renault) - 1m20.977 - 7
15 - Esteban Gutierrez (Sauber C33-Ferrari) - 1m21.467 - 8
16 - Romain Grosjean (Lotus E22-Renault) - 1m21.700 - 6
17 - Kamui Kobayashi (Caterham CT05-Renault) - 1m21.924 - 6
18 - Jules Bianchi (Marussia MR03-Ferrari) - 1m21.937 - 13
19 - Max Chilton (Marussia MR03-Ferrari) - 1m22.683 - 13
20 - Marcus Ericsson (Caterham CT05-Renault) - 1m22.063 - 11
21 - Nico Rosberg (Mercedes W05) - 1m22.862 - 6
22 - Kimi Raikkonen (Ferrari F14 T) - 1m45.509 - 4
* Unofficial results