On his way to a fourth consecutive world championship. German Sebastian Vettel -- the only man to have ever won at the New Delhi venue -- topped the timing sheets during both free practice sessions of the Indian Grand Prix Friday.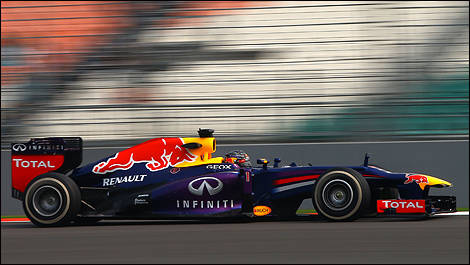 Sebastian Vettel, Red Bull RB9-Renault. (Photo: WRi2)
Driving his Renault-powered Red Bull RB9, Vettel set a best time of 1m26.683 to edge his teammate, Australian Mark Webber during FP1.
Nico Rosberg of Mercedes AMG, who fought Vettel throughout once the dusty track had improved, lapped his W04 in 1m26.899, with Lotus' Romain Grosjean coming in fourth on 1m28.990.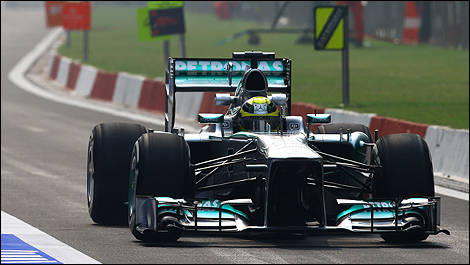 Nico Rosberg, Mercedes W04. (Photo: WRi2)
Lewis Hamilton in the second Mercedes completed the top five as the Briton battled with his car's handling to record 1m27.227.
Briton James Calado took over Paul di Resta's Sahara Force India. The rookie was 18th on 1m29.197.
The afternoon session saw Vettel repeat his strong performance, this time setting a quick time in 1m 25.722. The German was the only man to dip below the 1m 26 mark in an intriguing session that saw all the drivers struggling with front tire wear on the soft Pirelli rubber.
Romain Grosjean, Lotus E21-Renault. (Photo: WRi2)
Mark Webber again finished second to his teammate with a 1m26.011. Frenchman Romain Grosjean was third in his Lotus with a 1m26.220, and Lewis Hamilton moved up to fourth for Mercedes with 1m26.399.
Ferrari driver Fernando Alonso was fifth with a 1m26.430, beating Rosberg, Felipe Massa in the other Ferrari, Kimi Raikkonen in a Lotus and the McLaren duo of Sergio Perez and Jenson Button.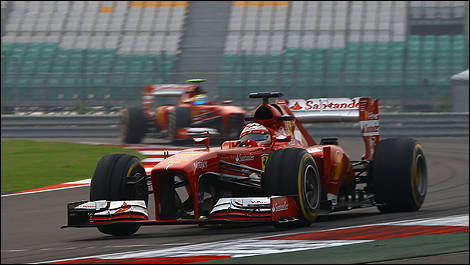 Fernando Alonso, Ferrari F138. (Photo: WRi2)
"We tried a number of different set-ups this morning – but I think our baseline was in the wrong place, so they didn't particularly work around this type of circuit," said Button.
"So we reverted to more of a traditional set-up for the afternoon, and we developed the car over the course of the day, so we're now getting there, despite the setbacks of the morning. In a way that's positive, because it meant that we'd already been getting the best out of the car for the whole year," he added.
Grand Prix of India, 1st free practice session*, Friday

1- Sebastian Vettel (Red Bull RB9-Renault) - 1'26"683 - 24 laps
2 - Mark Webber (Red Bull RB9-Renault) - 1'26"871 - 17
3 - Nico Rosberg (Mercedes W04) - 1'26"899 - 23
4 - Romain Grosjean (Lotus E21-Renault) - 1'26"990 - 20
5 - Lewis Hamilton (Mercedes W04) - 1'27"227 - 21
6 - Jenson Button (McLaren MP4-28-Mercedes) - 1'27"335 - 23
7 - Sergio Perez (McLaren MP4-28-Mercedes) - 1'27"416 - 23
8 - Felipe Massa (Ferrari F138) - 1'27"692 - 21
9 - Nico Hulkenberg (Sauber C32-Ferrari) - 1'27"770 - 19
10 - Valtteri Bottas (Williams FW35-Renault) - 1'27"800 - 23
11 - Jean-Eric Vergne (Toro Rosso STR8-Ferrari) - 1'28"035 - 25
12 - Fernando Alonso (Ferrari F138) - 1'28"214 - 6
13 - Daniel Ricciardo (Toro Rosso STR8-Ferrari) - 1'28"336 - 18
14 - Pastor Maldonado (Williams FW35-Renault) - 1'28"342 - 21
15 - Adrian Sutil (Force India VJM06-Mercedes) - 1'28"468 - 20
16 - Esteban Gutierrez (Sauber C32-Ferrari) - 1'28"538 - 18
17 - Kimi Raikkonen (Lotus E21-Renault) - 1'28"730 - 18
18 - James Calado (Force India VJM06-Mercedes) - 1'29"197 - 22
19 - Giedo Van der Garde (Caterham CT03-Renault) - 1'29"413 - 24
20 - Jules Bianchi (Marussia MR02-Cosworth) - 1'29"560 - 20
21 - Charles Pic (Caterham CT03-Renault) - 1'30"026 - 23
22 - Max Chilton (Marussia MR02-Cosworth) - 1'30"471 – 17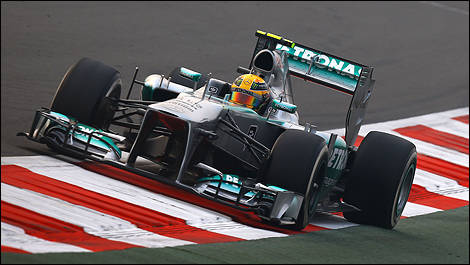 Lewis Hamilton, Mercedes W04. (Photo: WRi2)
Grand Prix of India, 2nd free practice session*, Friday

1 - Sebastian Vettel (Red Bull RB9-Renault) - 1'25"722 - 35 laps
2 - Mark Webber (Red Bull RB9-Renault) - 1'26"011 - 38
3 - Romain Grosjean (Lotus E21-Renault) - 1'26"220 - 36
4 - Lewis Hamilton (Mercedes W04) - 1'26"399 - 36
5 - Fernando Alonso (Ferrari F138) - 1'26"430 - 39
6 - Nico Rosberg (Mercedes W04) - 1'26"582 - 40
7 - Felipe Massa (Ferrari F138) - 1'26"601 - 41
8 - Kimi Raikkonen (Lotus E21-Renault) - 1'26"632 - 32
9 - Sergio Perez (McLaren MP4/28-Mercedes) - 1'26"857 - 40
10 - Jenson Button (McLaren MP4/28-Mercedes) - 1'26"972 - 39
11 - Daniel Ricciardo (Toro Rosso STR8-Ferrari) - 1'27"304 - 17
12 - Adrian Sutil (Force India VJM06-Mercedes) - 1'27"375 - 36
13 - Valtteri Bottas (Williams FW35-Renault) - 1'27"429 - 31
14 - Nico Hulkenberg (Sauber C32-Ferrari) - 1'27"491 - 40
15 - Paul Di Resta (Force India VJM06-Mercedes) - 1'27"608 - 38
16 - Pastor Maldonado (Williams FW35-Renault) - 1'27"720 - 23
17 - Esteban Gutierrez (Sauber C32-Ferrari) - 1'27"949 - 34
18 - Jean-Eric Vergne (Toro Rosso STR8-Ferrari) - 1'28"431 - 30
19 - Giedo Van der Garde (Caterham CT03-Renault) - 1'28"692 - 39
20 - Jules Bianchi (Marussia MR02-Cosworth) - 1'28"799 - 32
21 - Charles Pic (Caterham CT03-Renault) - 1'29"366 - 37
22 - Max Chilton (Marussia MR02-Cosworth) - 1'30"164 - 27
*Unofficial timing