Red Bull's Sebastian Vettel clocked the fastest lap ever Saturday around India's Buddh International Circuit, the host to this weekend Indian Grand Prix, on his way to yet another pole position.
Vettel led Mercedes drivers Nico Rosberg and Lewis Hamilton, in a straightforward fight on soft tires during the qualifying session's shootout.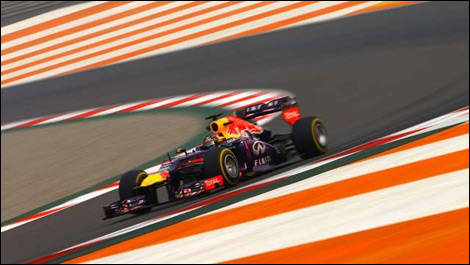 Sebastian Vettel, Red Bull RB9 (Photo: WRi2)
His teammate Mark Webber chose not to engage directly in the fight for pole, instead setting his lap on the much slower, but also more durable, medium compound tire, on which he managed to set the fourth fastest lap.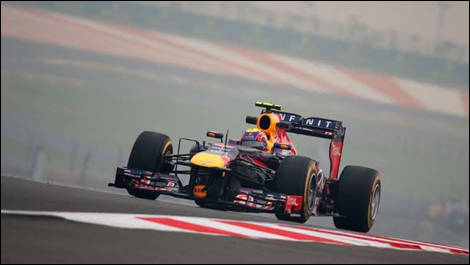 Mark Webber, Red Bull RB9 (Photo: WRi2)
The Australian could have the upper hand in the race, as drivers in the top 10 must start with the tires they qualified on.
Felipe Massa (Ferrari), Kimi Raikkonen (Lotus) and Nico Hulkenberg (Sauber) could not beat Webber even on the soft tire. They line up fifth, sixth and seventh respectively.
Felipe Massa, Ferrari F138 (Photo: WRi2)
Eighth on the grid, Fernando Alonso (Ferrari) clocked the second fastest lap amongst drivers using the medium compound, a group which also includes McLaren's Sergio Perez (ninth) and Jenson Button (tenth).
In the championship hunt, the Spaniard needs Vettel to finish outside the top five Sunday for his hopes to stay alive.
Romain Grosjean (Lotus) qualified a distant 17th because he lost his Q1 gamble on the medium compound.
Qualifying results* – Buddh International Circuit
1.Sebastian Vettel (Red Bull RB9-Renault) - 1'24"119 - Q3
2.Nico Rosberg (Mercedes W04) - 1'24"871 - Q3
3.Lewis Hamilton (McLaren MP4/28-Mercedes) . 1'24"941 - Q3
4.Mark Webber (Red Bull RB9-Renault) - 1'25"047 - Q3
5.Felipe Massa (Ferrari F138) - 1'25"201 - Q3
6.Kimi Raikkonen (Lotus E21-Renault) - 1'25"248 - Q3
7.Nico Hulkenberg (Sauber C32-Ferrari) - 1'25"334 - Q3
8.Fernando Alonso (Ferrari F138) - 1'25"826 - Q3
9.Sergio Perez (McLaren MP4/28-Mercedes) - 1'26"153 - Q3
10.Jenson Button (McLaren MP4/28-Mercedes) - 1'26"487 - Q3
11.Daniel Ricciardo (Toro Rosso STR8-Ferrari) - 1'25"519 - Q2
12.Paul Di Resta (Force India VJM06-Mercedes) - 1'25"711 - Q2
13.Adrian Sutil (Force India VJM06-Mercedes) - 1'25"740 - Q2
14.Jean-Eric Vergne (Toro Rosso STR8-Ferrari) - 1'25"798 - Q2
15.Valtteri Bottas (Williams FW35-Renault) - 1'26"134 - Q2
16.Esteban Gutierrez (Sauber C32-Ferrari) - 1'26"336 - Q2
17.Romain Grosjean (Lotus E21-Renault) - 1'26"577 - Q1
18.Pastor Maldonado (Williams FW35-Renault) - 1'26"842 - Q1
19.Jules Bianchi (Marussia MR02-Cosworth) - 1'26"970 - Q1
20.Giedo Van der Garde (Caterham CT03-Renault) - 1'27"105 - Q1
21.Charles Pic (Caterham CT03-Renault) - 1'27"487 - Q1
22.Max Chilton (Marussia MR02-Cosworth) - 1'28"138 - Q1
*Unofficial timing