Considering the Australian has not been on pole position since the Korean Grand Prix of last year, he didn't look very pleased. That's because world champion Vettel, who could win his fourth title on Sunday, struggled all day in Japan with a KERS problem.
"Unfortunately Seb didn't have KERS (for qualifying)," Red Bull team boss Christian Horner told the BBC, "so with that deficit to get on the front row was really a success."
The pole-sitter, who has been outclassed by Vettel all season, agreed: "Sebastian had a problem so it's a bit of a hollow pole but you have to grab the opportunities when you can."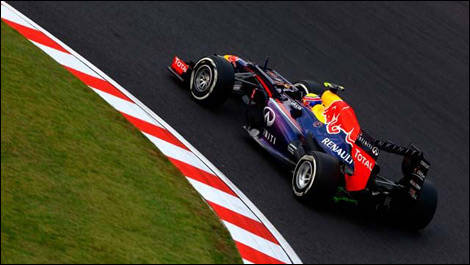 Mark Webber, Red Bull RB9 (Photo: WRi2)
Two fires, aside from Webber's performance, also highlighted the session. The first one involved Jean-Éric Vergne's Toro Rosso STR8, and the second one Esteban Gutierrez's Sauber C32.
A struggling Fernando Alonso (Ferrari) qualified eighth, which is the last position he can afford to finish in if he wants to remain in the title fight with Vettel.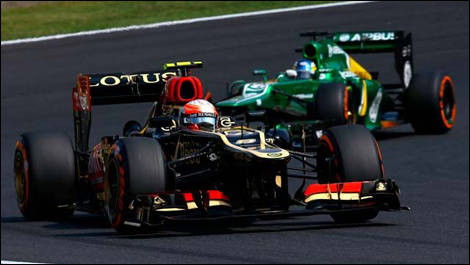 Romain Grosjean, Lotus E21 (Photo: WRi2)
Lewis Hamilton (Mercedes) and Romain Grosjean (Lotus), who have been performing well lately, lined up behind the two Red Bull, and just ahead of Felipe Massa (Ferrari) and Nico Rosberg (Mercedes), on the third row. Nico Hulkenberg, at the wheel of his humble Sauber, took seventh.
Veterans Kimi Raikkonen (Lotus) and Jenson Button (McLaren) complete the top 10.
Meanwhile, Adrian Sutil (Force India), Charles Pic (Caterham) and Jules Bianchi (Marussia) all line up at the back because of penalties: Sutil for changing his gearbox after free practice, Pic and Bianchi for the third reprimand they picked up in separate incidents last week in Korea.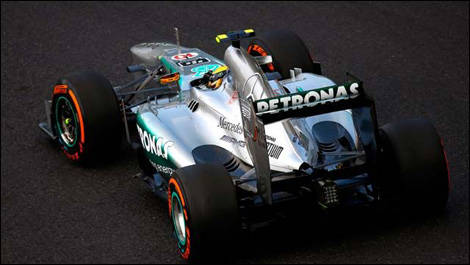 Lewis Hamilton, Mercedes W04 (Photo: WRi2)
Qualifying results* – Japanese Grand Prix (Suzuka)
1.Mark Webber (Red Bull RB9-Renault) - 1'30"915 - Q3
2.Sebastian Vettel (Red Bull RB9-Renault) - 1'31"089 - Q3
3.Lewis Hamilton (Mercedes W04) - 1'31"253 - Q3
4.Romain Grosjean (Lotus E21-Renault) - 1'31"365 - Q3
5.Felipe Massa (Ferrari F138) - 1'31"378 - Q3
6.Nico Rosberg (Mercedes W04) - 1'31"397 - Q3
7.Nico Hulkenberg (Sauber C32-Ferrari) - 1'31"644 - Q3
8.Fernando Alonso (Ferrari F138) - 1'31"665 - Q3
9.Kimi Raikkonen (Lotus E21-Renault) - 1'31"684 - Q3
10.Jenson Button (McLaren MP4/28-Mercedes) - 1'31"827 - Q3
11.Sergio Perez (McLaren MP4/28-Mercedes) - 1'31"989 - Q2
12.Paul Di Resta (Force India VJM06-Mercedes) - 1'31"992 - Q2
13.Valtteri Bottas (Williams FW35-Renault) - 1'32"013 - Q2
14.Esteban Gutierrez (Sauber C32-Ferrari) - 1'32"063 - Q2
15.Pastor Maldonado (Williams FW35-Renault) - 1'32"093 - Q2
16.Daniel Ricciardo (Toro Rosso STR8-Ferrari) - 1'32"845 - Q2
17.Jean-Eric Vergne (Toro Rosso STR8-Ferrari) - 1'33"357 - Q1
18.Max Chilton (Marussia MR02-Cosworth) - 1'34"320 - Q1
19.Giedo Van der Garde (Caterham CT03-Renault) - 1'34"879 - Q1
20.Adrian Sutil (Force India VJM06-Mercedes) - 1'32"890 - Q1**
21.Charles Pic (Caterham CT03-Renault) - 1'34"556 - Q1***
22.Jules Bianchi (Marussia MR02-Cosworth) - 1'34"958 - Q1***
*Unofficial timing
**Five-place grid penalty
***Ten-place grid penalty