Mercedes driver Lewis Hamilton enjoyed a rare trouble-free qualifying session, Saturday in Monza. He will head the grid, Sunday ahead of the Italian Grand Prix.
Trouble-free it was not for his teammate Nico Rosberg, though, whose running in the third practice session was hindered by a mechanical problem.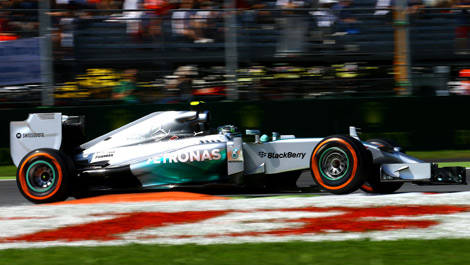 Nico Rosberg, Mercedes W05 (Photo: WRI2)
But the Mercedes crew fixed the car swiftly and had the German back on track in time for qualifying.
As Hamilton claimed his fifth pole position of the season aboard his Mercedes W05, which ran perfectly, Rosberg qualified second after a small mistake in the Ascari chicane.
Lewis Hamilton, Mercedes W05 (Photo: WRI2)
"It's a relief to have had a clean qualifying session, my first for quite a while!" said Hamilton.
"Big thanks to my guys in the garage, I'm very proud of the way they've worked this year and dealt with all our ups and downs, they've done a great job."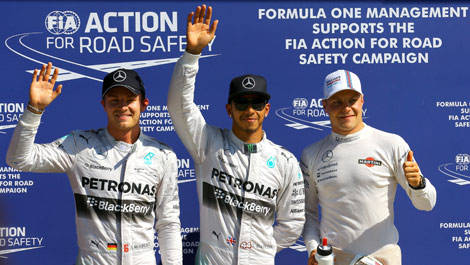 Nico Rosberg, Lewis Hamilton, Valtteri Bottas (Photo: WRI2)
Despite their tangle at the start of the Belgian Grand Prix, Hamilton and Rosberg will be free to race Sunday.
"It's business as usual tomorrow," added the Brit. "We're free to race and I hope we get a strong result for the team, hopefully a one-two."
In total, Mercedes managed to put six cars in the top 6, as Mercedes-powered drivers locked out the first three rows of the starting grid.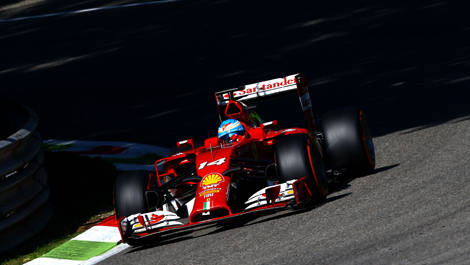 Fernando Alonso, Ferrari F14-T (Photo: WRI2)
Qualifying results* – Italian Grand Prix (round 13 of 19)
1.Lewis Hamilton (Mercedes W05) - 1'24"109 - Q3
2.Nico Rosberg (Mercedes W05) - 1'24"383 - Q3
3.Valtteri Bottas (Williams FW36-Mercedes) - 1'24"697 - Q3
4.Felipe Massa (Williams FW36-Mercedes) - 1'24"885 - Q3
5.Kevin Magnussen (McLaren MP4/29-Mercedes) - 1'25"314 - Q3
6.Jenson Button (McLaren MP4/29-Mercedes) - 1'25"379 - Q3
7.Fernando Alonso (Ferrari F14-T) - 1'25"430 - Q3
8.Sebastian Vettel (Red Bull RB10-Renault) - 1'25"436 - Q3
9.Daniel Ricciardo (Red Bull RB10-Renault) - 1'25"709 - Q3
10.Sergio Perez (Force India VJM07-Mercedes) - 1'25"944 - Q3
11.Kimi Raikkonen (Ferrari F14-T) - 1'26"110 - Q2
12.Jean-Eric Vergne (Toro Rosso STR9-Renault) - 1'26"157 - Q2
13.Nico Hulkenberg (Force India VJM07-Mercedes) - 1'26"279 - Q2
14,Adrian Sutil (Sauber C33-Ferrari) - 1'26"588 - Q2
15.Esteban Gutierrez (Sauber C33-Ferrari) - 1'26"692 - Q2
16.Pastor Maldonado (Lotus E22-Renault) - 1'27"520 - Q1
17.Romain Grosjean (Lotus E22-Renault) - 1'27"632 - Q1
18.Kamui Kobayashi (Caterham CT05-Renault) - 1'27"671 - Q1
19.Jules Bianchi (Marussia MR03-Ferrari) - 1'27"738 - Q1
20.Max Chilton (Marussia MR03-Ferrari) - 1'28"247 - Q1
21.Daniil Kvyat (Toro Rosso STR9-Renault) - 1'26"070 - Q2 **
22.Marcus Ericsson (Caterham CT05-Renault) - 1'28"562 - Q1
*Unofficial results**Ten-place grid penalty