Ferrari's Fernando Alonso set the fastest time in Friday's first free practice session but it was business as usual in FP2 when Mercedes' Lewis Hamilton went even quicker.
This morning, under grey skies, Alonso set the pace on 1m17.238 to head up the timesheet by just 0.016 seconds from Hamilton.
Ferrari has brought several updates here in Montreal. The F14 T features numerous changes under the bodywork in addition to new, low downforce front and rear wings.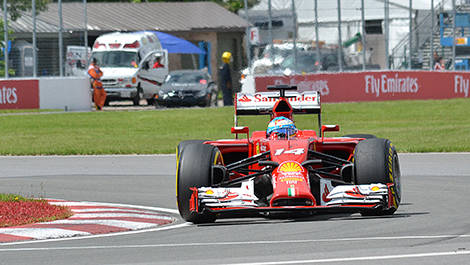 (Fernando Alonso, Ferrari Photo: Rene Fagnan)
Hamilton ranked second ahead if his teammate, Nico Rosberg.
On this high-power circuit, the Red Bulls could only rank 4th with Sebastian Vettel and 6th with Daniel Ricciardo.
After the lunch break, the battle resumed. Hamilton drove like a man possessed and set the best time at 1m16.118.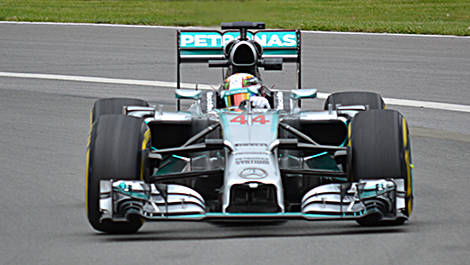 Lewis Hamilton, Mercedes AMG (Photo: Rene Fagnan)
He beat his teammate Rosberg by almost two tenths of a second.
Sebastian Vettel planted his Renault-powered Red Bull RB10 in third place, beating the Ferraris of Kimi Raikkonen and Fernando Alonso.
The Williams-Mercedes came after, with Felipe Massa ahead of Valtteri Bottas.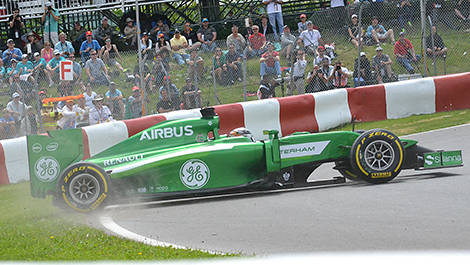 Kamui Kobayashi, Caterham (Photo: Rene Fagnan)
The McLaren duo of Kevin Magnussen and Jenson Button followed in 8th and 9th place, respectively.
Jean-Eric Vergne made it two Renault powered cars in the top ten with the Toro Rosso ahead of Romain Grosjean in the Lotus and Ricciardo in the Red Bull to break the run of Mercedes engine cars.
Canadian Grand Prix, Friday, Free practice 1*
1 - Fernando Alonso (Ferrari F14 T) - 1m17.238 - 21 laps
2 - Lewis Hamilton (Mercedes W05) - 1m17.254 - 25
3 - Nico Rosberg (Mercedes W05) - 1m17.384 - 32
4 - Sebastian Vettel (Red Bull RB10-Renault) - 1m18.131 - 28
5 - Valtteri Bottas (Williams FW36-Mercedes) - 1m18.361 - 20
6 - Daniel Ricciardo (Red Bull RB10-Renault) - 1m18.435 - 26
7 - Jenson Button (McLaren MP4-29-Mercedes) - 1m18.446 - 33
8 - Kevin Magnussen (McLaren MP4-29-Mercedes) - 1m18.514 - 31
9 - Kimi Raikkonen (Ferrari F14 T) - 1m18.578 - 15
10 - Jean-Eric Vergne (Toro Rosso STR9-Renault) - 1m18.643 - 14
11 - Nico Hulkenberg (Force India VJM07-Mercedes) - 1m18.733 - 30
12 - Sergio Perez (Force India VJM07-Mercedes) - 1m18.959 - 22
13 - Adrian Sutil (Sauber C33-Ferrari) - 1m19.108 - 24
14 - Romain Grosjean (Lotus E22-Renault) - 1m19.142 - 32
15 - Daniil Kvyat (Toro Rosso STR9-Renault) - 1m19.177 - 21
16 - Pastor Maldonado (Lotus E22-Renault) - 1m19.340 - 37
17 - Felipe Massa (Williams FW36-Mercedes) - 1m19.575 - 7
18 - Esteban Gutierrez (Sauber C33-Ferrari) - 1m19.804 - 15
19 - Jules Bianchi (Marussia MR03-Ferrari) - 1m20.200 - 15
20 - Max Chilton (Marussia MR03-Ferrari) - 1m20.844 - 26
21 - Marcus Ericsson (Caterham CT05-Renault) - 1m21.404 - 33
22 - Alexander Rossi (Caterham CT05-Renault) - 1m21.757 – 27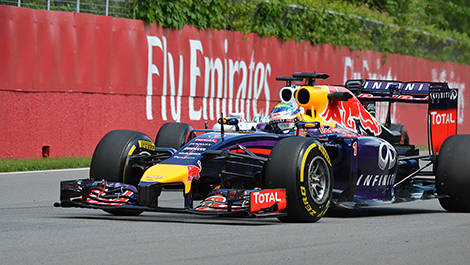 Sebastian Vettel, Red Bull Racing (Photo: Rene Fagnan)


Canadian Grand Prix, Friday, Free practice 2*
1 - Lewis Hamilton (Mercedes W05) - 1m16.118 - 42 laps
2 - Nico Rosberg (Mercedes W05) - 1m16.293 - 39
3 - Sebastian Vettel (Red Bull RB10-Renault) - 1m16.573 - 26
4 - Kimi Raikkonen (Ferrari F14 T) - 1m16.648 - 31
5 - Fernando Alonso (Ferrari F14 T) - 1m16.701 - 27
6 - Felipe Massa (Williams FW36-Mercedes) - 1m16.774 - 37
7 - Valtteri Bottas (Williams FW36-Mercedes) - 1m16.893 - 37
8 - Kevin Magnussen (McLaren MP4-29-Mercedes) - 1m17.052 - 42
9 - Jenson Button (McLaren MP4-29-Mercedes) - 1m17.059 - 38
10 - Jean-Eric Vergne (Toro Rosso STR9-Renault) - 1m17.180 - 40
11 - Romain Grosjean (Lotus E22-Renault) - 1m17.626 - 28
12 - Daniel Ricciardo (Red Bull RB10-Renault) - 1m17.644 - 36
13 - Nico Hulkenberg (Force India VJM07-Mercedes) - 1m17.712 - 35
14 - Sergio Perez (Force India VJM07-Mercedes) - 1m17.819 - 33
15 - Pastor Maldonado (Lotus E22-Renault) - 1m17.868 - 27
16 - Adrian Sutil (Sauber C33-Ferrari) - 1m17.964 - 47
17 - Esteban Gutierrez (Sauber C33-Ferrari) - 1m18.340 - 43
18 - Max Chilton (Marussia MR03-Ferrari) - 1m18.693 - 34
19 - Daniil Kvyat (Toro Rosso STR9-Renault) - 1m18.732 - 9
20 - Kamui Kobayashi (Caterham CT05-Renault) - 1m20.244 - 38
21 - Marcus Ericsson (Caterham CT05-Renault) - 1m22.418 - 13
22 - Jules Bianchi (Marussia MR03-Ferrari) - 1m32.127 - 3
*Unofficial timing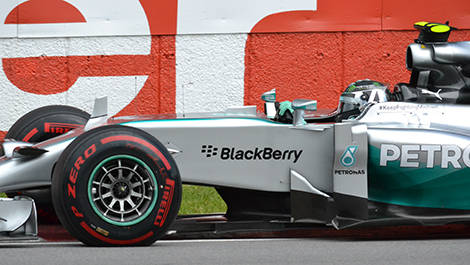 (Nico Rosberg, Mercedes AMG Photo: Rene Fagnan)