Mercedes AMG Formula 1 driver Lewis Hamilton set the pace Friday by topping both free practice sessions for the Grand Prix of Hungary at the tight and twisty Hungaroring.
Free practice 1

In the morning session, Hamilton beat his teammate Nico Rosberg, lapping the 4.381km circuit in a time of 1m25.814 to go 0.183 of a second faster than his German rival.
Kimi Raikkonen set the third fastest time in his Ferrari. The Finn was about 0.6 of a second slower than Hamilton but also about 0.4s faster than his teammate, Fernando Alonso in fourth.
The top ten was completed by Sebastian Vettel (Red Bull Racing), Kevin Magnussen (McLaren), Jean-Eric Vergne (Toro Rosso), Daniel Ricciardo (Red Bull Racing), Jenson Button (McLaren) and Felipe Massa (Williams).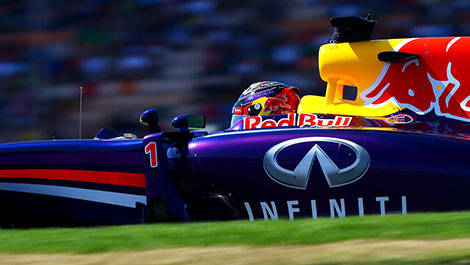 Sebastian Vettel, Red Bull RB10-Renault. (Photo: WRi2)
Free practice 2

Hamilton maintained his advantage over Rosberg in the second free practice session.
Lewis Hamilton's fastest time on the soft Pirelli tires of 1m24.482 was 0.242 of a second quicker than Rosberg managed.
Once more the Mercedes AMG W05s were in a league of their own for single-lap pace with third-fastest Sebastian Vettel, while enjoying a strong opening day relative to Red Bull team-mate Daniel Ricciardo - over 0.6 of a second adrift.
Fernando Alonso was the lead Ferrari in fifth ahead of Kevin Magnussen for improving McLaren.
Ricciardo, Valtteri Bottas (Williams), Button and Massa completed the top 10.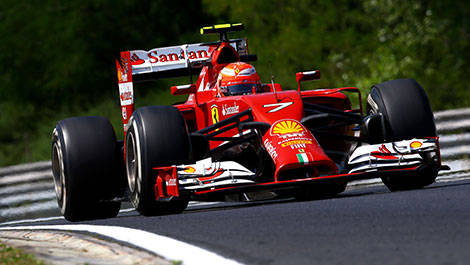 Kimi Raikkonen, Ferrari F14 T. (Photo: WRi2)
Hungarian Grand Prix, Hungaroring, Free practice 1*:

1 - Lewis Hamilton (Mercedes W05) - 1m25.814 - 27 laps
2 - Nico Rosberg (Mercedes W05) - 1m25.997 – 31
3 - Kimi Raikkonen (Ferrari F14 T) - 1m26.421 - 29
4 - Fernando Alonso (Ferrari F14 T) - 1m26.872 - 23
5 - Sebastian Vettel (Red Bull RB10-Renault) - 1m27.220 - 28
6 - Kevin Magnussen (McLaren MP4 -29-Mercedes) - 1m27.357 - 28
7 - Jean-Eric Vergne (Toro Rosso STR9-Renault) - 1m27.683 - 30
8 - Daniel Ricciardo (Red Bull RB10-Renault) - 1m27.782 - 16
9 - Jenson Button (McLaren MP4-29-Mercedes) - 1m27.804 - 27
10 - Felipe Massa (Williams FW36-Mercedes) - 1m27.960 - 24
11 - Esteban Gutierrez (Sauber C33-Ferrari) - 1m27.967 - 25
12 - Nico Hulkenberg (Sahara Force India VJM07-Mercedes) - 1m28.101 - 28
13 - Daniil Kvyat (Toro Rosso STR9-Renault) - 1m28.208 - 32
14 - Pastor Maldonado (Lotus E22-Renault) - 1m28.266 - 28
15 - Valtteri Bottas (Williams FW36-Mercedes) - 1m28.330 - 21
16 - Sergio Perez (Sahara Force India VJM07-Mercedes) - 1m28.376 - 24
17 - Romain Grosjean (Lotus E22-Renault) - 1m28.593 - 24
18 - Adrian Sutil (Sauber C33-Ferrari) - 1m29.025 - 23
19 - Kamui Kobayashi (Caterham CT05-Renault) - 1m30.363 - 30
20 - Marcus Ericsson (Caterham CT05-Renault) - 1m30.892 – 24
21 - Max Chilton (Marussia MR03-Ferrari) - 1m31.004 - 5
22 - Jules Bianchi (Marussia MR03-Ferrari) - 1m31.248 – 20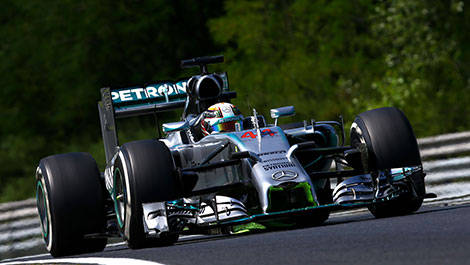 Lewis Hamilton, Mercedes W05. (Photo: WRI2)
Hungarian Grand Prix, Hungaroring, Free practice 2*:

1 - Lewis Hamilton (Mercedes W05) - 1m24.482 - 38 laps
2 - Nico Rosberg (Mercedes W05) - 1m24.720 – 38
3 - Sebastian Vettel (Red Bull RB10-Renault) - 1m25.111 - 33
4 - Fernando Alonso (Ferrari F14 T) - 1m25.437 - 26
5 - Kevin Magnussen (McLaren MP4-29-Mercedes) - 1m25.580 - 34
6 - Kimi Raikkonen (Ferrari F14 T) - 1m25.730 - 30
7 - Daniel Ricciardo (Red Bull RB10-Renault) - 1m25.983 - 29
8 - Valtteri Bottas (Williams FW36-Mercedes) - 1m25.999 - 37
9 - Jenson Button (McLaren MP4-29-Mercedes) - 1m26.234 - 33
10 - Felipe Massa (Williams FW36-Mercedes) - 1m26.402 - 18
11 - Daniil Kvyat (Toro Rosso STR9-Renault) - 1m26.689 - 42
12 - Jean-Eric Vergne (Toro Rosso STR9-Renault) - 1m27.703 - 37
13 - Nico Hulkenberg (Sahara Force India VJM07-Mercedes) - 1m26.789 - 39
14 - Adrian Sutil (Sauber C33-Ferrari) - 1m26.919 - 41
15 - Sergio Perez (Sahara Force India VJM07-Mercedes) - 1m27.013 - 39
16 - Pastor Maldonado (Lotus E22-Renault) - 1m27.019 - 40
17 - Romain Grosjean (Lotus E22-Renault) - 1m27.021 - 14
18 - Esteban Gutierrez (Sauber C33-Ferrari) - 1m27.480 - 32
19 - Kamui Kobayashi (Caterham CT05-Renault) - 1m28.370 - 35
20 - Jules Bianchi (Marussia MR03-Ferrari) - 1m28.469 – 26
21 - Max Chilton (Marussia MR03-Ferrari) - 1m28.586 - 35
22 - Marcus Ericsson (Caterham CT05-Renault) - 1m29.036 – 34

*Unofficial timing