Ron Howard's new movie "Rush" is based on the epic battle for the 1976 Formula 1 World title. Let's take a look at Niki Lauda's Ferrari and James Hunt's McLaren of 1976.
Austrian Niki Lauda was the reigning World Champion and was driving a Ferrari 312 T2 designed by Mauro Forghieri.
Briton James Hunt was in his first season for McLaren and he was behind the wheel of the Gordon Coppuck-designed McLaren M23.
Here are the technical specifications of the two cars that differed vastly.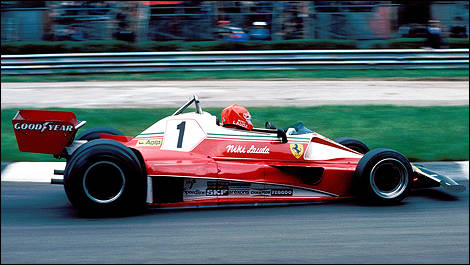 Ferrari 312 T2 (Photo: WRI2)


FERRARI 312 T2Engine
Configuration Type 015 180º V12
Location Mid, longitudinally mounted
Weight 170 kilos / 374.8 lbs
Construction light alloy block and head
Displacement 2,992cc / 182.6 cu in
Bore / Stroke 80.0 mm (3.1 in) / 49.6 mm (2 in)
Compression 11.8:1
Valvetrain 4 valves / cylinder, DOHC
Camshaft Gear driven
Fuel feed Lucas Fuel Injection
Lubrication Dry sump
Aspiration Naturally Aspirated
Power 500 bhp / 373 KW @ 12,200 rpm
Torque 320 Nm / 236 ft lbs @ 9,700 rpm
BHP/Liter 167 bhp / liter

Chassis
Chassis aluminium / composite body on aluminium monocoque
Front suspension double wishbones, inboard spring/damper units
Rear suspension upper arm, lower wishbone, single central radius arm
Steering rack-and-pinion
Brakes Brembo discs, all-round, rear inboard
Gearbox Ferrari Type 015 5 speed manual
Drive Rear wheel drive
Weight 575 kilos / 1267.7 lbs
Performance figures
Power to weight 0.87 bhp / kg
Top Speed 290 km/h (180 mph)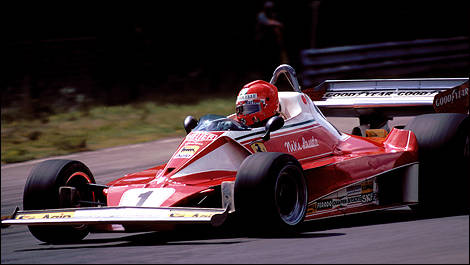 Ferrari 312 T2 (Photo: WRI2)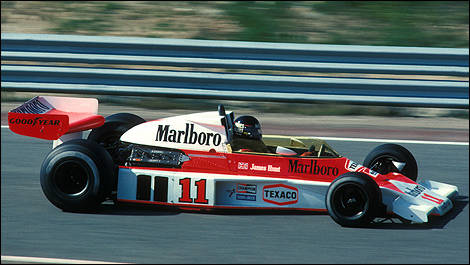 McLaren M23 (Photo: WRI2)
McLAREN M23Engine
Configuration Ford Cosworth DFV 90º V8
Location Mid, longitudinally mounted
Weight 168 kilos / 370.4 lbs
Construction aluminium block and head
Displacement 2.993cc / 182.6 cu in
Bore / Stroke 85.7 mm (3.4 in) / 64.8 mm (2.6 in)
Compression 11.0:1
Valvetrain 4 valves / cylinder, DOHC
Camshaft Gear driven
Fuel feed Lucas Fuel Injection
Lubrication Dry sump
Aspiration Naturally Aspirated
Power 485 bhp / 362 KW @ 10,600 rpm
BHP/Liter 162 bhp / liter
Chassis
Chassis aluminium monocoque
Suspension (fr/r) double wishbones, coil springs over dampers
Steering rack-and-pinion
Brakes ventilated discs, all-round
Gearbox Hewland DG 400 6 speed Manual
Drive Rear wheel drive
Weight 595 kilos / 1311.8 lbs
McLaren M23 (Photo: WRI2)