The new Ferrari team principal Marco Mattiacci thought the F1 job was a joke.
The Italian attends his first Grand Prix as a team principal in China this week-end.
"I live in New York and I received a call at 5.58 on Friday morning. The chairman, Luc di Montezemolo, was on the phone and he told me, 'this is my idea'," explains Marco Mattiacci in
Autosport
.
"I told him that April Fool's had been about 15 days earlier. But then, after the second or third minute of discussions, I understood that it was serious. And I understood that as there was already a ticket ready to go from New York to Milan after three hours. I arrived Saturday morning in Maranello at the Fiorano track," adds the Ferrari team principal.
Before travelling to Shanghai, Marco Mattiacci only spent two days with Stefano Domenicali to get up to speed with the position.
"Stefano is a great person. He is a friend of mine. On Saturday we spent a few hours, and Monday we spent the entire day together. Stefano is a person who I have the utmost respect as a human being and secondly as a professional, so it was natural to discuss the roles," reveals the Italian.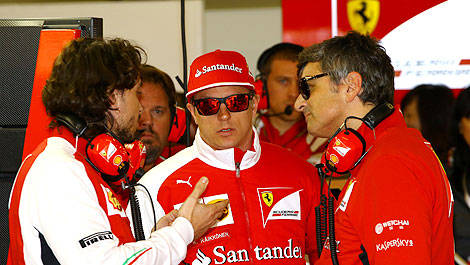 Marco Mattiacci with Kimi Raikkonen in Shanghai. (Photo: WRi2)
A lot of people underlined that Mattiacci was wearing sunglasses in Shanghai, while the weather was gloomy during the two sessions.
"If you do in less than four days almost 40 hours of flights, and you don't sleep in the last four days, then probably you need sunglasses," Marco Mattiacci commented.