From GMM
A legal dispute between Red Bull and McLaren is now over.
Earlier, McLaren supremo Ron Dennis was threatening to take the reigning world champions to court, after he signed Dan Fallows only to find the aerodynamics chief changed his mind and returned to Red Bull.
Team boss Eric Boullier conceded recently that McLaren was having to accept the likelihood that Fallows "will never join us".
Given Adrian Newey's looming withdrawal into semi F1-retirement, it is perhaps now obvious why Red Bull was so keen to hang on to his deputy, Fallows.
In the meantime, it emerges that out-of-court talks between Red Bull and McLaren over the disputed contract have been taking place.
The latest reports suggest a non-financial settlement has been reached, possibly involving Red Bull's early release of another McLaren recruit, Peter Prodromou, who until now has been on forced 'gardening leave'.
"Ron and (Red Bull team boss) Christian (Horner) have indeed discussed a number of outstanding issues recently, yes, and they have resolved them," a McLaren spokesman said.
"As Christian says, a handshake is all you need with Ron."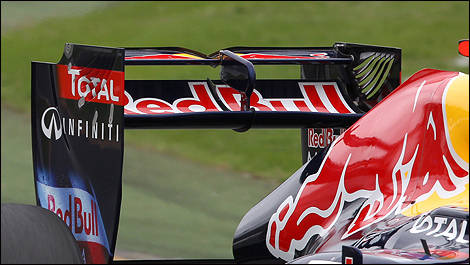 Red Bull rear wing. (Photo: WRi2)