Mercedes AMG's Lewis Hamilton set the fastest time of the day, Friday at the all-new Sochi Autodrom as the inaugural Russian Grand Prix got underway.
His teammate, Nico Rosberg emerged fastest of all in the morning session with a time of 1m42.311, to eclipse Hamilton by just 0.065 seconds.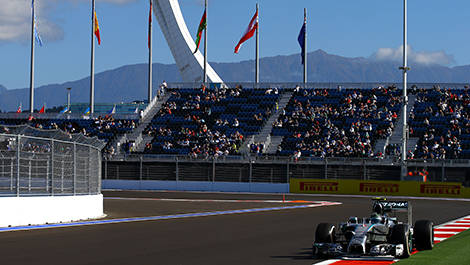 Nico Rosberg, Mercedes AMG (Photo: WRI2)
Drivers spent the opening session familiarising themselves with the 5.848km circuit, and many of them got caught running wide in corners and missing their braking points.
Third place went to McLaren's Jenson Button, who was just two tenths of second down on Rosberg, while Fernando Alonso was fourth for Ferrari with a time of 1m42.720. Kevin Magnussen was fifth in the second McLaren car.
Prior to the start of the session Marussia revealed that it would a single car at Sochi, as a mark of respect to Jules Bianchi who was severely injured in Japan.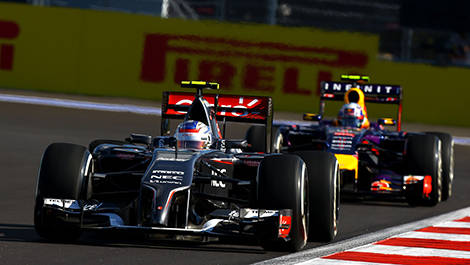 Sergey Sirotkin, Sauber (Photo: WRI2)


Second free practice session
Hamilton however recovered in the second session, setting the fastest time of the day in 1m39.630. The Briton was the only man to break the 1m40 barrier.
Rookie Kevin Magnussen finished the day with the second-fastest time in his McLaren-Mercedes.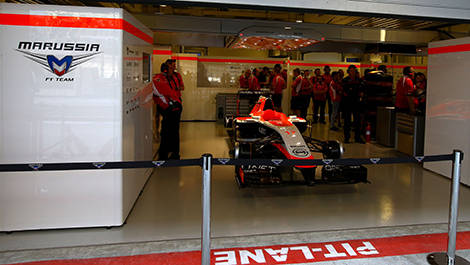 Jules Bianchi's Marrussia, silent in the garage. (Photo: WRI2)
Fernando Alonso finished third in his Ferrari, the Spaniard having run out of sequence relative to most by completing his soft-tire run later in the session.
He was followed by Nico Rosberg, Valtteri Bottas in the Williams-Mercedes and Jenson Button in the second McLaren.
"I took a very creative setup for my car in the second practice session, which didn't work out," Rosberg admitted.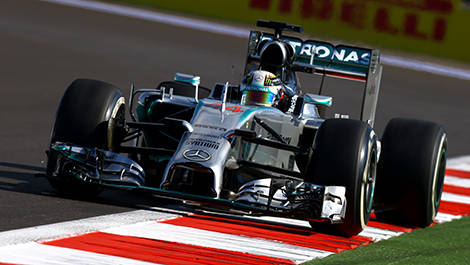 Lewis Hamilton, Mercedes AMG (Photo: WRI2)
It was a tough practice session for Red Bull Racing as Sebastian Vettel and Daniel Ricciardo posted the 9th and 13th fastest times, respectively.
The Australian's RB10 stopped on the race track near the end of the session with smoke coming out of the airbox.
Russian Grand Prix, Soshi Autodrom, Friday, 1st free practice session*:
1 - Nico Rosberg (Mercedes W05) - 1m42.311 - 29 laps
2 - Lewis Hamilton (Mercedes W05) - 1m42.376 - 25
3 - Jenson Button (McLaren MP4-29-Mercedes) - 1m42.507 - 28
4 - Fernando Alonso (Ferrari F14 T) - 1m42.720 - 27
5 - Kevin Magnussen (McLaren MP4-29-Mercedes) - 1m43.026 - 28
6 - Sergio Perez (Force India VJM07-Mercedes) - 1m43.129 - 26
7 - Daniil Kvyat (Toro Rosso STR9-Renault) - 1m43.164 - 29
8 - Kimi Raikkonen (Ferrari F14 T) - 1m43.212 - 23
9 - Jean-Eric Vergne (Toro Rosso STR9-Renault) - 1m43.327 - 24
10 - Valtteri Bottas (Williams FW36-Mercedes) - 1m43.542 - 9
11 - Felipe Massa (Williams FW36-Mercedes) - 1m43.741 - 22
12 - Daniel Ricciardo (Red Bull RB10-Renault) - 1m43.821 - 25
13 - Nico Hulkenberg (Force India VJM07-Mercedes) - 1m43.976 - 21
14 - Sebastian Vettel (Red Bull RB10-Renault) - 1m44.506 - 30
15 - Adrian Sutil (Sauber C33-Ferrari) - 1m44.625 - 26
16 - Pastor Maldonado (Lotus E22-Renault) - 1m44.876 - 26
17 - Sergey Sirotkin (Sauber C33-Ferrari) - 1m45.032 - 22
18 - Romain Grosjean (Lotus E22-Renault) - 1m45.190 - 25
19 - Roberto Merhi (Caterham CT05-Renault) - 1m46.782 - 18
20 - Marcus Ericsson (Caterham CT05-Renault) - 1m46.922 - 18
21 - Max Chilton (Marussia MR03-Ferrari) - 1m47.284 - 26
Russian Grand Prix, Soshi Autodrom, Friday, 2nd free practice session*:
1 - Lewis Hamilton (Mercedes W05) - 1m39.630 - 27 laps
2 - Kevin Magnussen (McLaren MP4-29-Mercedes) - 1m40.494 - 32
3 - Fernando Alonso (Ferrari F14 T) - 1m40.504 - 32
4 - Nico Rosberg (Mercedes W05) - 1m40.542 - 30
5 - Valtteri Bottas (Williams FW36-Mercedes) - 1m40.573 - 33
6 - Jenson Button (McLaren MP4-29-Mercedes) - 1m40.718 - 32
7 - Felipe Massa (Williams FW36-Mercedes) - 1m40.731 - 30
8 - Daniil Kvyat (Toro Rosso STR9-Renault) - 1m41.108 - 32
9 - Sebastian Vettel (Red Bull RB10-Renault) - 1m41.396 - 30
10 - Jean-Eric Vergne (Toro Rosso STR9-Renault) - 1m41.531 - 33
11 - Kimi Raikkonen (Ferrari F14 T) - 1m41.630 - 24
12 - Nico Hulkenberg (Force India VJM07-Mercedes) - 1m41.677 - 27
13 - Daniel Ricciardo (Red Bull RB10-Renault) - 1m42.061 - 25
14 - Sergio Perez (Force India VJM07-Mercedes) - 1m42.090 - 29
15 - Adrian Sutil (Sauber C33-Ferrari) - 1m42.233 - 31
16 - Romain Grosjean (Lotus E22-Renault) - 1m42.892 - 30
17 - Pastor Maldonado (Lotus E22-Renault) - 1m42.905 - 33
18 - Esteban Gutierrez (Sauber C33-Ferrari) - 1m43.055 - 33
19 - Marcus Ericsson (Caterham CT05-Renault) - 1m44.135 - 22
20 - Max Chilton (Marussia MR03-Ferrari) - 1m44.530 - 29
21 - Kamui Kobayashi (Caterham CT05-Renault) - 1m44.952 – 27
*Unofficial timing