Lewis Hamilton the fastest at the Red Bull Ring for the Austrian Grand Prix free practice sessions.
Nico Rosberg had dominated the first free practice session, 140 thousandts of a second ahead of his teammate Lewis Hamilton.
Fernando Alonso set the third best time with his Ferrari, three tenths of a second from the first Mercedes. Felipe Massa (Williams) and Jenson Button (McLaren) made the top-5.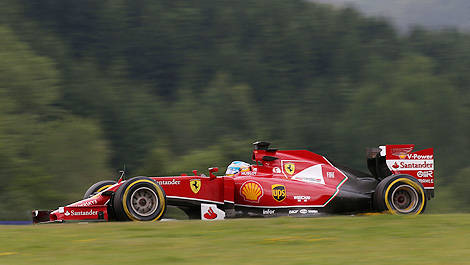 Fernando Alonso, Ferrari F14 T. (Photo: WRi2)
Sebastian Vettel was ranked 15th in the morning session.
Back in Austria after 11 years, no reserve driver was in action this morning, the teams left the race drivers get in used with the Red Bull Ring.
Under a cloudy sky in the afternoon, Lewis Hamilton set the fastest lap time ahead of Nico Rosberg. Fernando Alonso again ranks his Ferrari at the third place.
Both Williams drivers Valtteri Bottas and Felipe Massa follow ahead of Sebastian Vettel (Red Bull) sixth.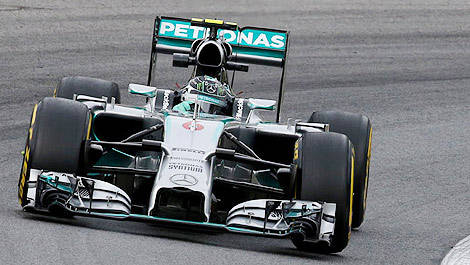 Nico Rosberg, Mercedes AMG W05. (Photo: WRi2)
Austrian Grand Prix
Friday 20 june 2014
Free Practice 1 - Results*

1 - Nico Rosberg (Mercedes W05) - 1:11:295 - 19 laps
2 - Lewis Hamilton (Mercedes W05) - 1:11:435 - 32
3 - Fernando Alonso (Ferrari F14 T) - 1:11:606 - 23
4 - Felipe Massa (Williams FW36-Mercedes) - 1:11:756 - 27
5 - Jenson Button (McLaren MP4-29-Mercedes) - 1:11:839 - 33
6 - Sergio Perez (Sahara Force India VJM07-Mercedes) - 1:12:009 - 33
7 - Nico Hulkenberg (Sahara Force India VJM07-Mercedes) - 1:12:072 - 20
8 - Valtteri Bottas (Williams FW36-Mercedes) - 1:12:114 - 21
9 - Kevin Magnussen (McLaren MP4-29-Mercedes) - 1:12:313 - 36
10 - Jean-Eric Vergne (Toro Rosso STR9-Renault) - 1:12:364 - 30
11 - Kimi Raikkonen (Ferrari F14 T) - 1:12:365 - 21
12 - Daniil Kvyat (Toro Rosso STR9-Renault) - 1:12:372 - 35
13 - Daniel Ricciardo (Red Bull RB10-Renault) - 1:12:570 - 28
14 - Esteban Gutierrez (Sauber C33-Ferrari) - 1:12:984 - 29
15 - Sebastian Vettel (Red Bull RB10-Renault) - 1:2:988 - 25
16 - Romain Grosjean (Lotus E22-Renault) - 1:13:168 - 28
17 - Pastor Maldonado (Lotus E22-Renault) - 1:13:642 - 27
18 - Jules Bianchi (Marussia MR03-Ferrari) - 1:13:738 - 26
19 - Max Chilton (Marussia MR03-Ferrari) - 1:13:857 - 28
20 - Kamui Kobayashi (Caterham CT05-Renault) - 1:14:611 - 24
21 - Adrian Sutil (Sauber C33-Ferrari) - 1:14:691 - 9
22 - Marcus Ericsson (Caterham CT05-Renault) - 1:17:501 - 8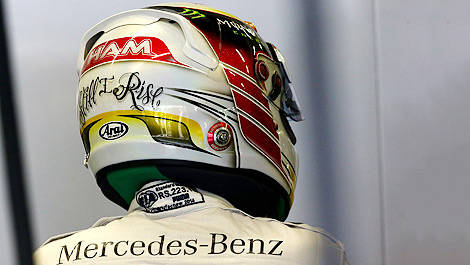 Lewis Hamilton, Mercedes AMG. (Photo: WRi2)
Free Practice 2 - Results*

1 - Lewis Hamilton (Mercedes W05) - 1:09:542 - 37 laps
2 - Nico Rosberg (Mercedes W05) - 1:09:919 - 50
3 - Fernando Alonso (Ferrari F14 T) - 1:10:470 - 40
4 - Valtteri Bottas (Williams FW36-Mercedes) - 1:10:519 - 44
5 - Felipe Massa (Williams FW36-Mercedes) - 1:10:521 - 39
6 - Sebastian Vettel (Red Bull RB10-Renault) - 1:10:807 - 39
7 - Jenson Button (McLaren MP4-29-Mercedes) - 1:10:813 - 44
8 - Daniel Ricciardo (Red Bull RB10-Renault) - 1:10:920 - 36
9 - Kevin Magnussen (McLaren MP4-29-Mercedes) - 1:10:936 - 45
10 - Jean-Eric Vergne (Toro Rosso STR9-Renault) - 1:10:972 - 39
11 - Kimi Raikkonen (Ferrari F14 T) - 1:10:974 - 45
12 - Daniil Kvyat (Toro Rosso STR9-Renault) - 1:11:261 - 45
13 - Sergio Perez (Sahara Force India VJM07-Mercedes) - 1:11:296 - 36
14 - Esteban Gutierrez (Sauber C33-Ferrari) - 1:11:491 - 42
15 - Pastor Maldonado (Lotus E22-Renault) - 1:11:765 - 30
16 - Adrian Sutil (Sauber C33-Ferrari) - 1:11:806 - 42
17 - Nico Hulkenberg (Sahara Force India VJM07-Mercedes) - 1:11:935 - 39
18 - Max Chilton (Marussia MR03-Ferrari) - 1:12:229 - 43
19 - Romain Grosjean (Lotus E22-Renault) - 1:12:262 - 46
20 - Jules Bianchi (Marussia MR03-Ferrari) - 1:12:279 - 36
21 - Kamui Kobayashi (Caterham CT05-Renault) - 1:12:937 - 24
22 - Marcus Ericsson (Caterham CT05-Renault) - 1:13:596 - 48
* Un-official timings