Having won two races so far this season, the Infiniti Red Bull Racing F1 team believes the next big opportunity to beat the Mercedes AMGs will come in Singapore.
After the three-week summer break, Formula 1 will tackle two fast circuits that require a lot of top end engine power: Spa-Francorchamps and Monza.
Red Bull Racing boss Christian Horner believes it will be "damage limitation" for his team on these two fast circuits.
Horner adds that the team is likely to have to wait for the Singapore Marina Bay street circuit to have any hope of victory.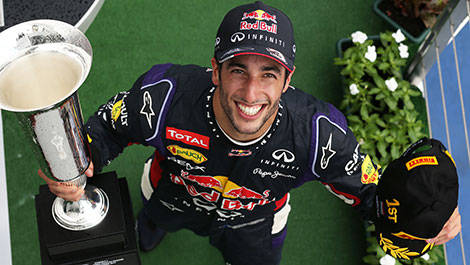 Daniel Ricciardo, winner in Hungary with Red Bull. (Photo: WRi2)
"You never know, it might be wet in Spa and Monza might put a load more corners in!" Horner said with a smile on his face.
"But," he added, "Singapore has to be the next golden opportunity for us in reality.
"I think it will be damage limitation in the next two races because Sahara Force India will suddenly reappear, Williams will be quick, McLaren will be quick and obviously Mercedes will be quick.
"So we're got to take what we can out of the next two races and then for the flyaways really try and turn things up."