From Formula1.com
Williams' technical director Pat Symonds says the British team success across the first half of the 2014 Formula 1 season will not prove short-lived.
Frank and Claire Williams' team has scored three podiums so far this season - all through Finland's Valtteri Bottas and currently lied fourth on the constructors' standings.
That renaissance led some in the paddock to say that Williams' form was track-dependent.
The vastly experienced Symonds believes the team have a genuine claim to being the third best on this year's grid, and expects success to continue over the final eight races.
"There is an element of it - always has been, always will be," Symonds told
Formula1.com
when asked about McLaren's Eric Boullier's view that track layout was a major factor in Williams' results.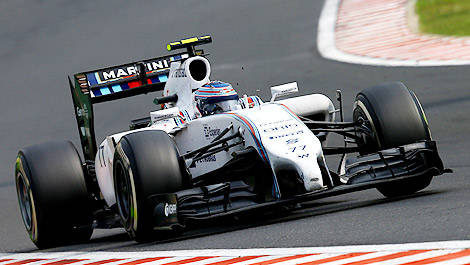 Valtteri Bottas, Williams FW36-Mercedes. (Photo: WRi2)
"Our objective is to design a car that works equally well on all 19 circuits, but none of us achieve that, not even Mercedes.
"But I do think that is a bit of wishful thinking from Eric [Boullier] as well. Don't get me wrong, I do recognise the differences for us at places like Austria, but I still believe we have the third quickest car, and if we use it and develop it properly we will be third quickest at most circuits," Symonds continued.
"It is very close this year - no one will say anything other than Mercedes AMG is the best car, in my opinion Red Bull Racing is second, and then you have Ferrari, Sahara Force India, Williams and McLaren. That is quite a tight bunch, (but) arguably we have the third-best car at the moment," he explained.
Symonds warned, however, that Williams' fortunes would not just hang on the FW36's underlying pace, but also the team's efficiency and ability to avoid mistakes.
"I don't believe up until Austria that we performed or achieved what we should have, for all sorts of reasons," Symonds said.
"What makes it difficult this year is that 43 points are taken by Mercedes AMG at pretty much every weekend, which means the rest of us are fighting for a lot less.
"The difference between finishing third and sixth overall might be quite small. If we are the third-best team, we ought to finish third in the championship - but in 2005 [when Symonds was executive director of engineering at Renault] we won the championship with Fernando Alonso despite McLaren having the better car. We were a better team and we won by our racing," Symonds declared.