Director of Pirelli motorsport, Paul Hembery said he will push for Formula 1 to use 19-inch tire if the sport elect to change tire size.
Hembery added he'd like to see F1 move to a 19-inch tire instead of 18.
The Briton explained Pirelli could be ready to switch to 18-inch tires in 2016, but added the Italian company is doing more work on the 19-inch.
"We are doing a lot of work - probably focusing on 19-inch now, if I am really honest with you," Paul Hembery confirmed.
"We are carrying on our work internally on those developments and so from our point of view it goes ahead."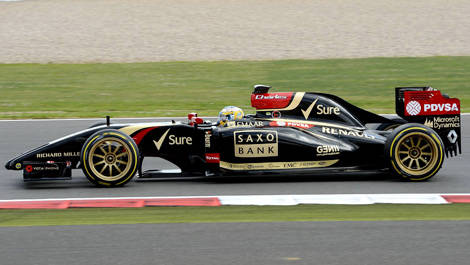 Lotus E22 with 18-inch Pirelli tires. (Photo: WRi2)
Asked what his preference would be, if the sport does choose for change, Hembery said Pirelli would prefer 19-inch tires: "18-inch tires we have got everywhere and 19 is different," he said.
"It is too early to say about the width. I think that depends on what package of aero changes they are going to make and what they think they might do with the suspension. We have heard talk of some form of active suspension. I am not sure if that is going to happen or not. But there is a lot of aspects they are talking about which could change what we do with that," Hembery explained.