From press release
Marussia driver Jules Bianchi was understandably "very happy" after qualifying an impressive 16th on the grid of this week-end's Belgian Grand Prix.
The Frenchman mastered tricky conditions at a wet Spa-Franchorchamps circuit to advance in the second part of qualifying, which guaranteed him a spot in the top 16.
It's the second time Bianchi gets himself out of Q1 this season, after he qualified an even more impressive 12th at the British Grand Prix.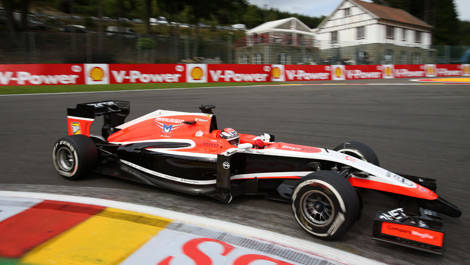 Jules Bianchi, Marussia MR03 (Photo: WRI2)
In Spa, he out-qualified Nico Hülkenberg and Pastor Maldonado, as well as his Marussia teammate Max Chilton.
"I'm really happy to make it through to Q2 again, especially as it repeats a good performance here last year. I love this track," he said.
"I was a little surprised that we had such a strong qualifying, simply because the tricky conditions were the same for everyone, yet we have fared better than some of the teams further up the grid."