Despite a difficult and very challenging early season, Renault is making steady progress and powered the two Red Bulls on the podium at the Singapore Grand Prix last Sunday.
With the 6th place of Jean-Eric Vergne in the Toro Rosso, Renault placed three cars in the top 6.
The intense heat and extremely high humidity made this the most physically and mechanically demanding race of the season.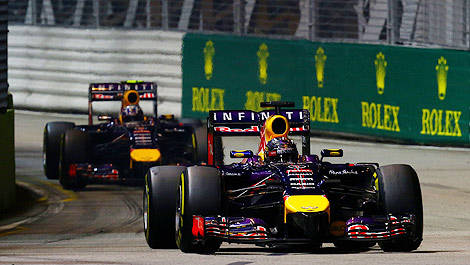 Sebastian Vettel and Daniel Ricciardo, Red Bull-Renault, second and third at Singapore. (Photo: WRi2)
"Two drivers on the podium is really the best we could have hoped for. This weekend we have faced a number of issues but we have solved each one methodically to get both cars to the finish, and in a strong position," said Remi Taffin, Head of Track Operations.
"An equally good job from the guys at Toro Rosso, who managed the energy and fuel extremely well to give JEV enough at the end to secure sixth on the road", he added.
The only big problem concerned Caterham.
"One of the few negative points was Kamui's [Kobayashi] failure on the parade lap. Unfortunately his car developed an ERS problem and he had to pull off," Taffin explained.
"We hope to build on this in Suzuka and outrace the teams we were racing today," he concluded.