From GMM(story updated, see below)
Sebastian Vettel is reportedly chewing over the interest in his services expressed by McLaren-Honda.
In the media, Ron Dennis' desire for a truly top driver to spearhead the new McLaren era beginning next year has centred on Fernando Alonso.
But the Spaniard has effectively ruled himself out of the running this week, as he said he is not only committed to the rest of his Ferrari contract, but is even eyeing an extension to the deal.
And insiders believe Lewis Hamilton is unlikely to abandon his coveted seat at Mercedes, even if teammate Nico Rosberg goes on to secure the 2014 title.
"Lewis is not having any discussion with any other team, so this is why we trust each other," team boss Toto Wolff insists.
McLaren's hopes might therefore be pinned now on Vettel, the reigning quadruple world champion.
The German has struggled at Red Bull this year as the champion team's engine partner Renault faltered at the start of the new turbo V6 era.
But he has even failed to match his new teammate Daniel Ricciardo, with some believing Vettel may now be open to a change of stimulus as Red Bull plots its future with younger stars including Daniil Kvyat and Max Verstappen.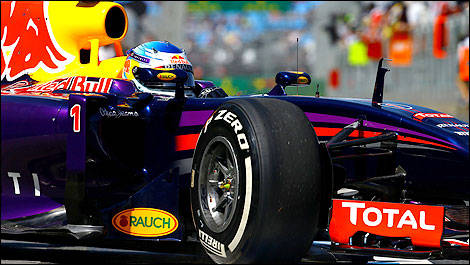 Sebastian Vettel, Red Bull RB10-Renault. (Photo: WRi2)
The specialist Italian sources
Italiaracing
and
Omnicorse
report this week that McLaren-Honda's interest in Vettel has definitely reached the 27-year-old German.
Italiaracing
claims he is likely to resist the call and stay at Red Bull in 2015.
Omnicorse
, however, believes Vettel has responded to the noises from Woking by seeking "certain guarantees" about the new McLaren-Honda project, particularly about the likelihood of a package capable of taking on Mercedes in 2015.
"Rumours in Italy suggest that the Red Bull driver has asked for a period of reflection before giving his answer to McLaren," the report said.
Counting in McLaren's favour is that a man central to Vettel's success at Red Bull in recent years, aerodynamics chief Peter Prodromou, started work at Woking a few days ago.
"It (Prodromou's arrival) will bolster our revitalised aero team," Dennis said recently, "so I'm not concerned about aero performance next year. It will come right."
And Honda has also made clear this week that, contrary to rumours it is currently missing its target of matching Mercedes' dominant engine performance, the Japanese marque intends to win as soon as possible.
"I have confidence that we will match Mercedes," chief Yasuhisa Arai told F1's official website.
"Formula one is a very important part of our strategy -- and winning is very important for Honda," he added.
"We want to raise the awareness of our brand and I trust - I am a firm believer - that we will win races next year."

UPDATE
In Monza, Sebastian Vettel has dismissed speculation suggesting that he may be set to join McLaren.
The German driver feels that he has plenty of challenges to be getting on with at Red Bull Racing.
"I think at the moment I have plenty of challenges if I'm honest. There's plenty of stuff to do. My situation hasn't changed," Vettel said Thursday.
"I'm happy where I am, but you never know what's happening in the future. As I said, right now, I don't feel the need to do something different, so I think that case is fairly boring", he added.