From GMM
F1 team bosses have swerved around the political crisis in the wake of the MH17 air disaster.
The sport is scheduled to race on Russian soil for the first time in October, but there is pressure to cancel or boycott the race amid the deepening controversy.
"Obviously what's going on in that part of the world at the moment is of huge concern to everybody," Williams deputy chief Claire Williams said in Hungary.
"But we've always said we try to disengage from taking a political angle on these things."
Williams' colleagues broadly agree, insisting Bernie Ecclestone - an avowed admirer of the highly-controversial Russian president Vladimir Putin - and the governing FIA set the calendar.
But in the wake of F1's handling of the Bahrain crisis, and after teams raced in other controversial lands like China, and in 2016 will head to Azerbaijan, reporters on Friday expressed frustration with the teams' apparently blind 'follow Bernie Ecclestone' position.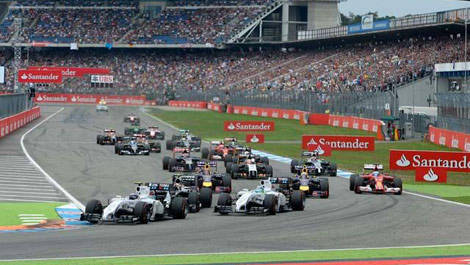 Photo: WRi2
"Would you follow Ecclestone to North Korea?" wondered
Sport Bild
correspondent Ralf Bach.
Red Bull team boss Christian Horner responded by slamming the "negativity" of the questions posed during the FIA press conference.
"We should be talking about the drivers," he said, "we should be talking about the spectacular racing at the last grand prix, yet all we do is focus on the negatives and it has to be said, it gets pretty boring for us to sit up here and field these questions.
"If you've got these questions, please point them at Mr (Jean) Todt or Mr Ecclestone rather than the teams," Horner added.