Sebastian Vettel emerged quickest in Q3 Saturday to claim pole position for the 2013 US Formula 1 Grand Prix at Circuit of the Americas in Austin, Texas.
The four-time World Champion set a time of 1m36.338 on a set of Pirelli medium tires. It was the 44th pole of his career and his eighth this season.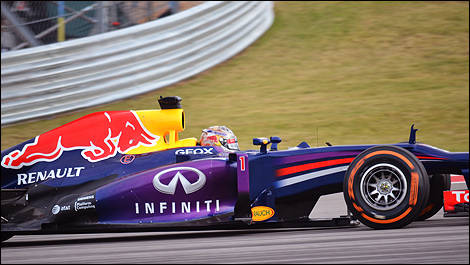 Sebastian Vettel, Red Bull Racing (Photo: Rene Fagnan)
Qualifying got underway in ambient temperatures of 27 degrees with a strong wind, blowing the dust from the surrounding fields onto the race surface.
Williams' driver Valtteri Bottas went fastest in Q1 on the medium tires, which all the drivers who completed a second run used by the end of the session.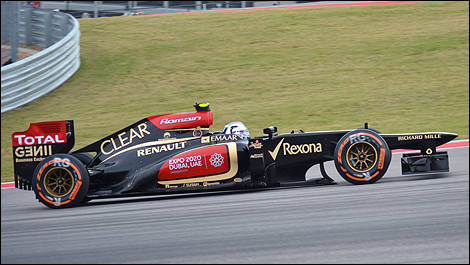 Romain Grosjean, Lotus (Photo: Rene Fagnan)
Lotus drivers Romain Grosjean and Heikki Kovalainen both did only one run while all the other teams completed two runs. Both Red Bull Racing drivers used just one set of hard tires during Q1 and this enabled them to save their allocation of medium tires for the rest of qualifying and the race.
Most drivers complained that the track had changed massively from this morning's P3, complaining about significant balance problems.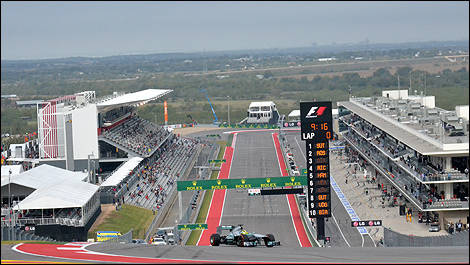 View from Corner 1 (Photo: Rene Fagnan)
In Q2, Vettel led his teammate Mark Webber by the end of the session as track temperatures fell slightly and the wind decreased.
The final top 10 again used the medium tires only during Q3. Vettel set pole position on his second run, in the closing seconds of the session – having made the difference over his teammate in the last sector of the lap.
Lotus' Grosjean ranked third, ahead of the impressive Nico Hulkenberg for Sauber.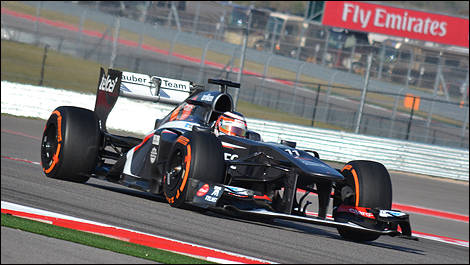 Nico Hulkenberg, Sauber (Photo: Rene Fagnan)
Lewis Hamilton was fifth for Mercedes AMG, leading Fernando Alonso for Ferrari, Sergio Perez for McLaren, Kovalainen, Valtteri Bottas for Williams (quick all weekend) and Esteban Gutierrez for Sauber.
Gutierrez was later penalised by the stewards for having "unnecesseraly impeded the car of Pastor Maldonado between turns 19 and 20 whist performing dangerous manoeuvres". The Mexican has received a 10-spot grid penalty.
"It was a tricky session as the wind had picked up quite a bit since this morning; it does influence the behaviour of the car and it's not that easy, especially in the corners, I wasn't that happy with my first run in Q3, but I think I had a solid run at the end which was enough," said Vettel.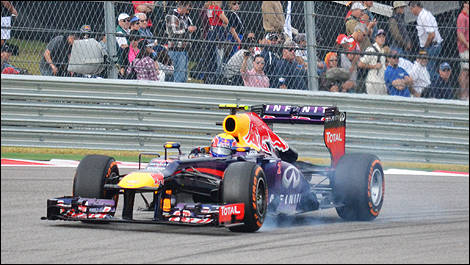 Mark Webber, Red Bull Racing (Photo: Rene Fagnan)
Pastor Maldonado was out of action immediately after Q1. After he exited his Williams, an emotional Maldonado told Sky Sports F1: "I think in my car somebody is playing with the pressure and the temperatures."
2013 US Grand Prix, Circuit of the Americas (qualifying times*)
1. Sebastian Vettel 1'36''338 (Q3)
2. Mark Webber 1'36''441 (Q3)
3. Romain Grosjean 1'37''155 (Q3)
4. Nico Hulkenberg 1'37''296 (Q3)
5. Lewis Hamilton 1'37''345 (Q3)
6. Fernando Alonso 1'37''376 (Q3)
7. Sergio Perez 1'37''452 (Q3)
8. Heikki Kovalainen 1'37''715 (Q3)
9. Valtteri Bottas 1'37''836 (Q3)
10. Esteban Gutierrez** 1'38''034 (Q3)
11. Daniel Ricciardo 1'38''131 (Q2)
12. Paul di Resta 1'38''139 (Q2)
13. Jenson Button 1'38''217 (Q2)
14. Nico Rosberg 1'38''364 (Q2)
15. Felipe Massa 1'38''592 (Q2)
16. Jean-Eric Vergne 1'38''696 (Q2)
17. Adrian Sutil 1'39''250 (Q1)
18. Pastor Maldonado 1'39''351 (Q1)
19. Giedo van der Garde 1'40''491 (Q1)
20. Jules Bianchi 1'40''528 (Q1)
21. Charles Pic 1'40''596 (Q1)
22. Max Chilton 1'41''401 (Q1)
*Unofficial timing** 10-spot grid penalty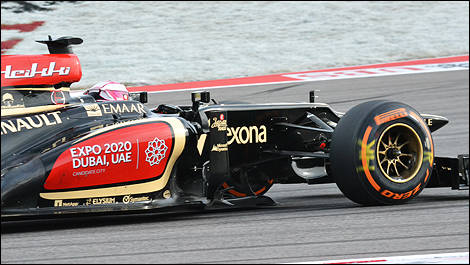 Heikki Kovalainen, Lotus (Photo: Rene Fagnan)