From press release
The Toyo Tires F1600 Championship Series will crown the "A" and "B" Class Champions this weekend at Canadian Tire Motorsport Park during the annual BEMC Indian Summer Trophy Races, the final two rounds in the series.
The "A" Class has been dominated by Eureka, MO's Tristan DeGrand for most of the season, racking up an impressive string of wins and making very few mistakes. He comes into the final round with 940 points.
His closest rival all year has been Brampton, ON's Chase Pelletier. His 762-point tally has come from a string of consistent finishes. Pelletier's shot at the crown will take some very exceptional circumstances to become a reality, but, he has been here before and knows all too well that you do not stop pushing until the last lap of the season.
Pelletier and DeGrand were the top two protagonists in the new F1600 Super Series decided a few weeks ago at the Grand Prix de Trois-Rivieres.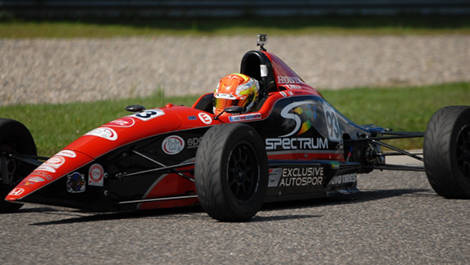 Tristan DeGrand (Photo: Michael Haley)
DeGrand was in a similar position, just needing to have a quiet day and close out his season. Pelletier needed to have the weekend of his life to force the issue and take all of the points. Both happened. DeGrand crashed out of the first race of the weekend, then raced his way back into contention in race 2 only to have a mechanical failure seal his fate. Pelletier won both races and emerged the surprise champ.
Third place in points is Craig Willis with 612. He has had an incredibly impressive season. The 2013 "B" Class Champion made a bold move to bring his small family run program to the ultra-competitive "A" Class fight. The youngster didn't even make the start of race 1 on the opening weekend after crashing in qualifying and having to make a trip back to the shop to try and repair the car for race 2. He did, and finished on the podium, setting the stage for what would be a great story of what can be achieved in this sport with very little.
The Willis effort is based on a well-proven 24-year old chassis with the less popular Ford Kent engine option, however, he has excelled with this package. Granted, Dad is a world class race mechanic and engineer for the AIM Tudor Ferrari team, but, Dad has not been present for some of Willis' best finishes – Mom has.
The "B" Class has been a similar story. Connor Wagland, the charismatic son of a former F1600 Champion, has really come into his own in his second season of competition. He won his first race earlier this year and it was a popular one. Since that day he has looked like a Champion each and every time out. He comes into the final two rounds with 852 points.
Second in the "B" Championship is another series favourite, Amy Castell. The Waterloo native snagged an incredibly popular first career win on the streets of Toronto at the Honda Indy. Much like Pelletier, Castell will need some drama to befall Wagland but she has shown great pace all year long and will be putting the pressure on the point's leader.
"Iron Man" Mike Lee sits comfortably in third with 702. Lee has had yet another solid season of consistent finishes in his much older car against his two younger competitors and is ready to pounce should the pressure of a Championship weekend wreak havoc on them.