From press release
Max Verstappen had a perfect start as a Red Bull Junior Team member: at the Nürburgring, the 16-year-old won his first outing in the colours of the Austrian Formula 1 World Championship-winning team.
On a drying track, the Dutch rookie scored his eighth win of the season and was thus able to reduce the gap to the championship leader, Frenchman Esteban Ocon, who finished sixth.
"We knew that the track here dries out quickly," said Verstappen.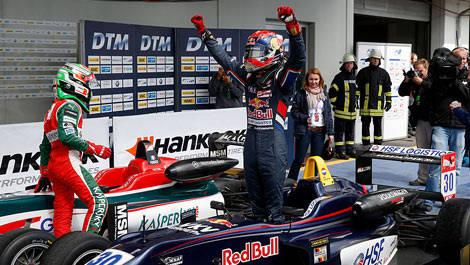 Max Verstappen (Photo: F3 Euro Series)
"So therefore we opted for slick tires. I reckon that this was the right choice, even though the first few laps with slicks weren't easy. When Richard Goddard overtook me, I was well aware that his rain tires wouldn't last that long anymore, because at that time, he was already trying to cool his tires all the time.
"Therefore, I didn't defend my position too heavily against his attacks and I just tried not to let him pull away too much."