McLaren will officially unveil the new 650S on March 4th at the 2014 Geneva Auto Show, but that didn't stop the manufacturer from releasing the first pictures of this wickedly sexy coupe.
The 650S will also be available as a Spider convertible with power retractable hardtop.
The 650S badge designation refers to the power output -- 650PS (641 hp) -- of the unique British-built McLaren M838T twin-turbo V8 engine, which propels the car from 0-100 km/h in just three seconds before reaching a top speed of 333 km/h.
As for styling, new LED headlamps reflect a similar look to the
McLaren P1
, while the side profile and rear-end treatment evoke the
McLaren 12C
.
UPDATE
Surprise! McLaren has just unveiled its new 650S Coupe
and
650S Spider in Geneva. The latter delivers the same type of performance as the former, and promises equally superb handling and driving dynamics.
Just like the McLaren 12C Spider, the 650S Spider features a heated rear window that operates independently from the roof.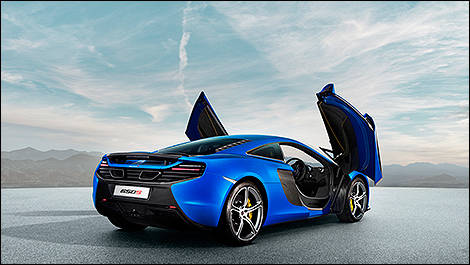 Photo: McLaren