Ford Canada today announced that 1,000 hourly jobs will be created at its Oakville assembly plant in Ontario to produce the all-new 2015 Ford Edge, which will go on sale early next year.
Through a $700 million investment, Oakville is now one of Canada's most competitive and advanced global manufacturing plants, able to meet growing demand in North America and around the world.
The new jobs will bring total employment at the plant to more than 4,000 by the end of this year. Ford already added 300 jobs in 2013 to meet growing consumer demand.
"The new 2015 Ford Edge sets a new standard in its class and will show countries around the world Canadian quality at its best," said Joe Hinrichs, Ford president of The Americas. "New jobs at Oakville Assembly will strengthen our investment in Canada and increase our capabilities as we gear up for one of the most anticipated launches at Ford."
The Oakville assembly plant currently manufactures the Ford Edge and Flex, along with the Lincoln MKX and MKT. The 2015 Ford Edge will be exported to more than 100 countries worldwide. It's all new from wheels to roof and is loaded with more technology, higher levels of craftsmanship and greatly improved vehicle dynamics.
Source : Ford Canada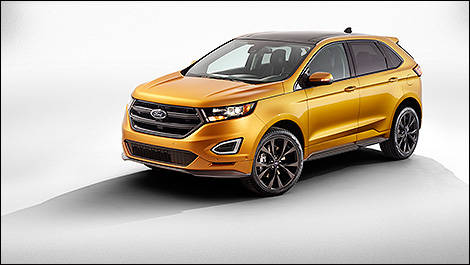 Photo: Ford