At the 2018 North American International Auto Show now underway in Detroit, Ford has made happy campers of many an automotive fan. Its unveiling of the revived 2019 Ranger made pickup fans' day; now it's muscle car fanatics' turn to cheer, with the launch of the long-awaited Mustang Bullitt and the announcement of the new 2019 Shelby GT500.
To mark the 50th anniversary of Bullitt, the iconic cult film which featured a dark green Mustang GT in a starring role alongside Steve McQueen, the new 2019 Ford Mustang Bullitt, driven by the actor's grand-daughter Molly, appears in a new video in which she races a Dodge Charger to obtain the last spot in a parking lot.
The modern Bullitt's 5.0L V8 generates over 475 hp and 420 lb-ft of torque, and can attain a top-speed of 262 km/h. The shifter for the manual gearbox is topped by a knob in the form of a white cue ball, just like the original.
The Premium and Performance Packages of the Mustang GT are included in the new Bullitt. The car's engineers also gave it a new air intake system (borrowing the manifold from the Shelby GT350) and an active valve performance exhaust system, which was re-tuned to give the engine a signature sound.
There are other nods to the passage of time: unlike the Mustang seen in the film, the new Bullitt features a heated leather steering wheel and 12-inch fully digital LCD instrument cluster. On the other hand, it mimics the original in foregoing badging, spoilers and decorative strips. That stripped-down look is exactly what made the original so cool, after all. That said, the exterior is spruced up by the presence of 19-inch alloy wheels and red Brembo brake calipers. And if the dark green colour isn't your thing, well, you can always opt for black. The new Mustang Bullitt will go to market in summer 2018.
.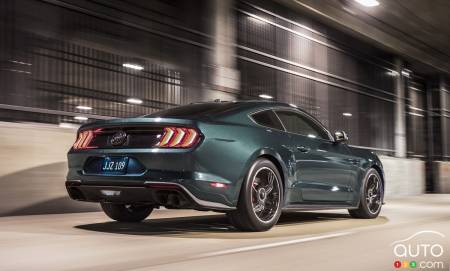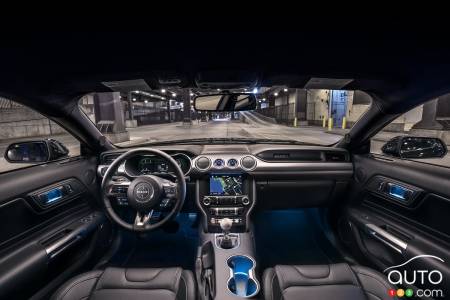 As for the 2019 Ford Mustang Shelby GT500, the automaker was stingy with details at the announcement, other than providing this video. We can confirm that it will hit the market next year, and that its powertrain will produce over 700 hp on the strength of a supercharged V8 – making it the most powerful street-legal production Ford ever (and twice as powerful as the 1967 version!). It was designed by the team at Ford Performance, which integrated a number of track-developed technologies and high-performance equipment topped by an aggressive, highly aerodynamic outer shell. We can't wait!