In advance of being shown nationally during the Daytona 500 on Feb. 26, Ford will offer a sneak peek of the "Mustang Inner TV" ad tomorrow at 11 a.m. EST via a Google Hangout and later via YouTube and on the Mustang Facebook page.
Ford's Google Hangout can be watched at the company's Google Plus page:
http://gplus.to/fordmotorcompany
.
Conventional advertising is usually about the product and not the customer. Companies seek opportunities to sell their item, touting its benefits, performance and how it will improve lives.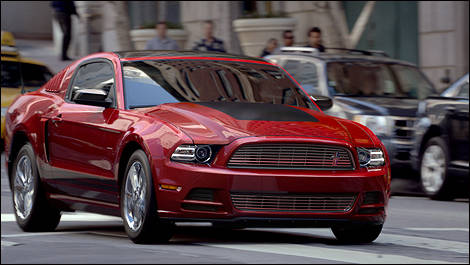 Photo: Ford
"We know that Mustang owners are incredibly passionate about their car," said Matt VanDyke, director of U.S. Marketing Communications. "Rather than just show features and benefits, our new ad demonstrates how people see the product as an extension of who they are. We believe that everyone has an inner Mustang just waiting to be unleashed."
"This ad was created to work in tandem with the success of our Mustang Customizer and downloadable app, which allows anyone to create their very own Mustang, selecting colors, accessories and decals to complement the amazing design," said Lee Jelenic, Ford Car Marketing Communications manager. "Mustang owners are unique, independent, and like their cars to reflect their personalities. The Customizer site and this spot pay homage to that."
Since the fall, the website and application have been incredibly popular, generating more than 4 million digital Mustangs built and a 62 percent increase in the size of the Mustang Facebook community, from 1.6 million to 2.6 million fans. The app has been downloaded more than 200,000 times. Twenty-five percent of Mustang digital customizations occurred via the mobile application.
"These results confirm the potential we saw in developing a social platform that lets Mustang owners have fun with the brand, interact and share," said Scott Kelly, Ford Digital Marketing manager.
Mustang Customizer
allows users to:
Build the Mustang V6, GT, Boss 302 or GT500 of their dreams by choosing from custom colors, trims, wheels and decals. The site offers a printable parts list that can be taken to a dealer
Battle their Mustang against others on the Customizer Battle page
Share their results with their friends via Facebook
As reported by Ford