As reported by Ford
LAS VEGAS, Nev.
– For rally fans looking to imitate what successful Ford rally drivers
Mikko Hirvonen
, Jari-Matti Latlava and
Ken Block
have accomplished, a new Fiesta R2 rally package is the place to start.
Currently available throughout Europe, Ford Racing is bringing the competition-ready package stateside to let enthusiasts turn their five-door Fiesta into a Fiesta R2 that's ready to compete on the roads of RallyCar's Rally America National Championship. The package is now available for order through Team O'Neil Motorsports, a division of Team O'Neil Rally School in New Hampshire.
The spirit of One Ford is making it possible for us to bring the best of European rally racing to competitors in the U.S.," said Jamie Allison, director, Ford North America Motorsport. "The Fiesta R2 has already proven itself in Europe as a great platform for aspiring rally drivers."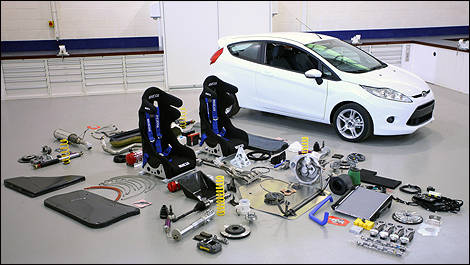 Photo: Ford
The winner of the 2011 U.S. Fiesta Sport Trophy Championship will also have the opportunity to compete in the R2 class during next year's Wales Rally GB.
Developed by M-Sport, Ford's WRC partner since 1997, the kit will convert a production
Fiesta
to rally specification. Included in the package are engine parts that will increase the performance of the 1.6-liter Ti-VCT four-cylinder engine: pistons, conrods, camshafts, valve springs, injectors, airbox, air filter and a sump baffle kit. The performance enhancements deliver 168 horsepower and 134 lb.-ft. of torque, a 40 percent increase in horsepower over the production Fiesta.
Other upgrades include:
Five-speed Sadev sequential gearbox with flat shift gear cut
Reiger adjustable dampers with Eibach springs
Ventilated disc brakes with AP four-piston competition calipers
T45 steel multipoint roll cage
Team O'Neil Motorsports is the official reseller and authorized installer for the R2 kits. Only cars prepared by Team O'Neil will be eligible for the U.S. Fiesta Sport Trophy Championship.
"The R2 kit provides a fantastic performance and dynamic upgrade for the already strong and light Fiesta platform, transforming it into an instantly competitive and durable rally car," said Tim O'Neil, founder and president. "We're really excited to be able to offer this to North American rally drivers."
In addition to the full R2 kit, Ford Racing will also offer a Stage 1 kit based on the R2 package.
The Stage 1 kit will include parts designed for the rigors of rallying, including a roll cage, ball joints, engine performance upgrades, dampers and a limited-slip differential. The package will offer competitors a lower-cost entry point to take a Fiesta rallying.