The 2014 Ford
F-150
will offer a gaseous-fuel prep option on the 3.7L V6 engine, which means it will be able to run on compressed natural gas (CNG) or liquefied petroleum gas (LPG).
With this addition, the Blue Oval will have 8 vehicles available to run on clean-burning, inexpensive CNG/LPG, the others being mostly commercial trucks.
Ford will also become the only manufacturer with an available CNG/LPG-capable half-ton pickup.
The factory-installed, gaseous-fuel prep package will cost $315 in the U.S. and include hardened valves, valve seats, pistons and rings so it can operate on either natural gas or gasoline through separate fuel systems. Upfits will run approximately $7,500 to $9,500 depending on fuel tank capacity.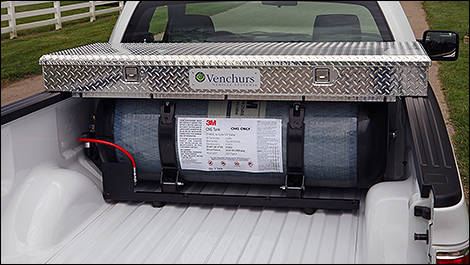 Photo: Ford