From FIA Formula E
Christian Danner, veteran of 35 grand prix, had a run during the first official test at Donington Park last week.
"I was very pleasantly surprised because you have a certain amount of prejudice: is it going to work? What will it be like?
"But once you actually get your arse into the car you realise that, number one, it's just a racing car. It does have a lot of grip from the tires, which was a big surprise because when you look at them that appears impossible."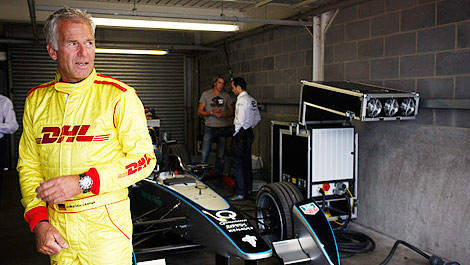 Christian Danner during his Formule E testing at Donington Park. (Photo: FIA Formula E)
Christian Danner now works as a Formula 1 pundit for German TV and he reckons Formula E has the potential to appeal to a whole new fan base.
"It is very different and you shouldn't do too much comparison to other racing series. It's unique and therefore you [can] attract a lot of other new people to our sport.
"I love racing whether it's an electric motor or a combustion engine, I don't care, for me it's a racing car. And this is a very good way to get to hook up with a lot of people who weren't interested [in racing] before," said the new ambassador for series partner DHL.