Brazilian race car driver Lucas di Grassi won the inaugural event of the all-electric Formula E championship, Saturday in Beijing, and rates the victory as one of the "greatest on-track moments" of his career.
His involvment in the development of the series made it all even sweeter for the Team ABT Sportsline driver.
"This victory means a lot to me and takes one of the top spots on the list of my greatest on-track moments," he said.
"I was involved in the development of Formula E from the very beginning and intensively prepared for this weekend in the past months with my Team ABT Sportsline."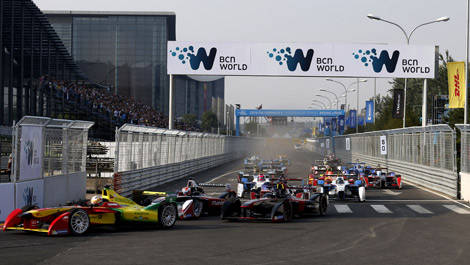 Start of the race in Beijing (Photo: WRI2)
Di Grassi also pointed out that this first Formula E race revealed an interesting recipe, which should prove popular as the series grows.
"In Formula E, we only have a limited amount of energy available that we have to manage well," he added.
"In addition, there's the strong competition by international top-flight teams and drivers more than ten of whom have Formula 1 experience.
"Plus, we're racing on street circuits in the middle of cities and our practice, qualifying sessions and the races are all held within the space of just a few hours, which leaves only little time to get used to the track."
The second race of the season will be held November 22nd, in Putrajaya, Malaysia.