History/Description:
The last-generation GMC Jimmy was a 4x4 SUV model available to Canadian shoppers from model years 1997 to 2005 inclusive. Built on a truck frame and featuring a transfer case-based 4-wheel drive system, it offered family-ready functionality and actual off-road workability.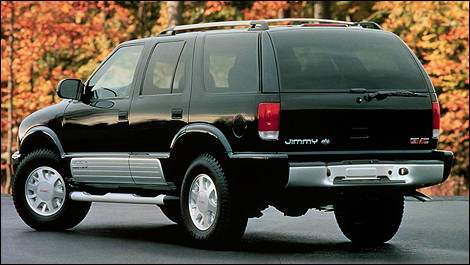 2000 GMC Jimmy (Photo: General Motors)
Two and 4-door models with 2- and 4-wheel drive were available, as were manual or automatic transmissions –depending on the year in question. Look for numerous trim levels and options packages to meet a variety of needs and lifestyles. Looking for a loaded model? The Jimmy SLT was the range-topping trim level in most years.
Feature content included antilock brakes, automatic climate control, premium audio, an auto-dimming rearview mirror, leather accents, heated power-adjustable seats, and more. A sunroof was also available.
What Owners Like:
Jimmy owners like the truck-based feeling of toughness, capability and comfort. Most enjoy adequate performance from the 4.3L V6 engine. Towing capacity and looks are also highly rated.
What Owners Dislike:
Fuel mileage, at-hand storage facilities, legroom and cornering abilities are rated poorly by most Jimmy owners. Some of these people say they hoped for a larger and more accommodating interior given the size of the vehicle.

Common Issues With A Used GMC Jimmy:
Numerous issues are present with the GMC Jimmy in checks of owner forums and online discussions. A number of them deal with the durability of components used in the Jimmy's construction. Wheel hub bearings, suspension components, steering components and brake components were all mentioned.
Translation? Be sure to have the potential used Jimmy candidate you're considering checked over fully by a mechanic ahead of your purchase.
Ensure the 4x4 system works as outlined in the owner's manual, and is able to switch between its various drive modes. If that's not the case, a sensor or actuator motor may be to blame. Also, note any harsh shifting or 'slippage' from the automatic transmission, avoiding any model that doesn't shift smoothly and cleanly at all times. Opting for a model that's been maintained as per the service schedule in its owner's manual, and that has full service records available, is a good idea. Remember that proper regular maintenance is key for long-term reliability.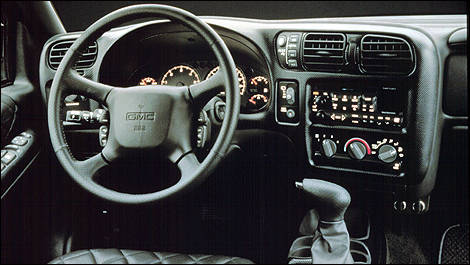 2000 GMC Jimmy (Photo: General Motors)