From press release
Hilmer Motorsport is pleased to announce that Beitske Visser and Nelson Mason will join the team for the opening event of the 2014 GP3 Series in Barcelona.
The 26-year-old Canadian from Niagara Falls was already testing with the German team at the pre-season test days in Jerez and Barcelona and has shown a promising performance. Mason will compete with Hilmer Motorsport the whole 2014 season.
Mason began his racing career at the age of five years in Canadian National Motocross.
To increase his track time, he has competed in various racing categories throughout his career and was competing in different Karting Championships and European Formula Championships.
In 2013, he achieved three race wins and four pole positions in European Formula Open and raced in the prestigious 60th Macau Grand Prix.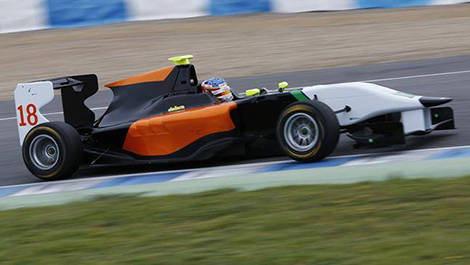 Nelson Mason, Hilmer GP3 car (Photo: Hilmer Motorsport)
Nelson Mason will run the No. 18 GP3 car and Beitske Visser will be at the wheel of the No. 19 GP3 car of Hilmer Motorsport. Both will make their GP3 race debut at the Circuit de Catalunya on 10th May 2014.
"I am extremely happy to be part of Hilmer Motorsport and to compete with the team in GP3 Series this year," said Mason.
"I would like to thank the whole team for offering me this opportunity and all the work at the pre-season test days in Jerez and Barcelona. It is a tremendous honour to join the team in the GP3 Series, and I hope to uphold the success that the team has achieved so far in GP2. I'd really like to thank my family and supporters for all the tireless work to get me here and everyone behind the scenes."