Marc Antoine Camirand captured his first career NASCAR Canadian Tire Series pole, earning the top starting spot for today's JuliaWine.com Le 50 Tours with a fast lap of 67.100 seconds on the 1.53-mile street course in Trois-Rivieres.
Camirand just edged local favorite L.P. Dumoulin, a Trois-Rivieres native and current series points leader. Dumoulin will start second after turning a qualifying lap at 67.323 seconds.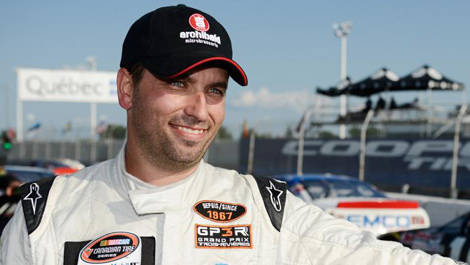 Marc-Antoine Camirand (Photo: Matthew Murnaghan/NASCAR)
Andrew Ranger, a Quebec native who has won four of the seven previous races at Trois-Rivieres – and finished second in the three races he didn't win here – qualified third at 67.333.
Kerry Micks (67.632) and J.R. Fitzpatrick (67.713) rounded out the top five. Alex Labbe, Jacques Villeneuve, J.F. Dumoulin, Elie Arseneau, and Alex Tagliani secured starting positions six through ten.
The JuliaWine.com Le 50 Tours is scheduled to begin at 3:30 pm Sunday.
Qualifying Results – JuliaWine.com Le 50 Tours
1 88 Marc-Antoine Camirand 01:07.1
2 47 L.P. Dumoulin 01:07.3
3 27 Andrew Ranger 01:07.3
4 2 Kerry Micks 01:07.6
5 84 J.R. Fitzpatrick 01:07.7
6 36 Alex Labbe 01:07.7
7 7 Jacques Villeneuve 01:08.0
8 4 J.F. Dumoulin 01:08.1
9 3 Elie Arseneau 01:08.1
10 18 Alex Tagliani 01:08.1
11 22 Scott Steckly 01:08.2
12 3 Jason Hathaway 01:08.3
13 39 Alex Guenette 01:08.3
14 72 Xavier Coupal 01:08.3
15 17 D.J. Kennington 01:08.4
16 97 Hugo Vannini01:08.6
17 59 Gary Klutt 01:08.6
18 76 Jeff Lapcevich 01:08.7
19 24 Luc Lesage 01:08.8
20 42 Peter Klutt 01:08.9
21 95 Anthony Simone 01:08.9
22 37 Simon Dion-Viens 01:08.9
23 99 Matt Pritiko 01:09.1
24 94 Dave Coursol 01:09.2
25 5 Noel Dowler 01:09.2
26 71 Patrice Brisebois 01:09.3
27 25 Joey McColm 01:09.5
28 16 Benoit Theetge 01:09.6
29 56 Matthew Scannell 01:10.5
30 29 Ray Courtemanche Jr. 01:10.6
31 9 Vaughn Gittin Jr. 01:11.1
32 0 Dominic Jacques 01:14.5
33 77 Jocelyn Fecteau 01:28.2
*Rookie