From Rolex Grand-Am
Rubens Barrichello, the most experienced driver in the history of Formula One with 322 career starts, will make his Daytona Prototype debut in next weekend's Brickyard Grand Prix.
The Brazilian will share Doran Racing's No. 77 3Dimensional.com Ford/Dallara with Floridian Doug Peterson.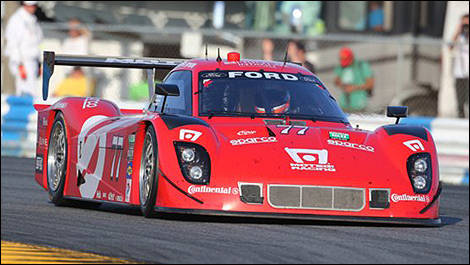 Doran Racing's No. 77 3Dimensional.com Ford/Dallara (Photo: Rolex Grand-Am)
Barrichello is already a winner at Indianapolis Motor Speedway, winning the 2002 United States Grand Prix for Scuderia Ferrari.
The two drivers met briefly nearly 10 years ago at the Ferrari Challenge World Finals at the Mugello Circuit in Italy.
"Rubens signed my helmet, and it's still hanging on my wall," Peterson said. "I've been a huge fan of his forever and ever – I watch all the Formula One races, and have for many years. He's a super, stand-up guy. I don't know him, but I've met him a couple of times and I'm really looking forward to running with him and Kevin (Doran)."
When Peterson learned that Barrichello was looking for a co-driver for Indianapolis, he contacted team owner Kevin Doran and lined up sponsorship from his company, 3-Dimensional Services. They will drive Doran Racing's DP for the first time on Tuesday at a private shakedown run at Putnam Park in Greencastle, Ind.
Barrichello's Indianapolis victory was one of 11 in Formula One competition. He finished second in the World Championship in 2002 (winning four races) and in 2004, driving behind champion teammate Michael Schumacher for Ferrari. He also finished third in 2001 for Ferrari and in 2009 for Brawn GP.
After retiring from F1 after the 2011 season, he ran the IZOD IndyCar Series in 2012 for KV Racing Technology, with his best finish fourth at Sonoma.
He now races in Brazil's Stock Car V8 series.