Remember the road course at the Indianapolis Speedway that used to host the Formula One circus? Well the Indycar Series is planning to use it once again to hold a race early in May.
According to reports, an IndyCar road race at IMS is looking more and more likely and the circuit use by Grand-Am and MotoGP could be tested in September by some IndyCar squads.
Indianapolis officials confirmed that a feasibility test will be held either Sept. 4 or Sept. 6 with an eye toward staging a race to kick off Indianapolis 500 festivities next May.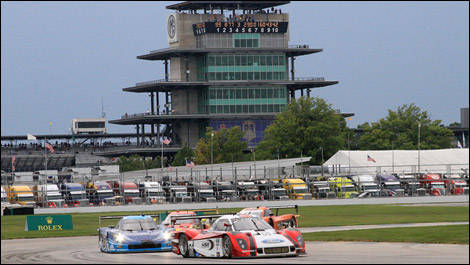 Grand-Am racing at IMS (Photo: Grand-Am.com)
A still undecided number of Indycar teams will be on hand to test both of the IMS configurations, clockwise (used by F1 and Grand-Am) and counter-clockwise directions (used by MotoGP). 
Either way, changes to the infield portion of the track are expected to make the circuit faster and more exciting.
The early-May event could stage a double-feature competition involving both a United SportsCar Racing and IndyCar events.