As expected, following the huge crash he was involved in last week-end in Houston, Ganassi's Dario Franchitti will miss the IndyCar season finale at Fontana.
No official announcement has been made yet but, sources close to the team, have confirmed that the Scot will be unable to participate in the last round of the 2013 season.
Franchitti suffered a concussion, two fractured vertebra, and a fracture to his right ankle when he hit the rear of Takuma Sato's car in the second race of the Houston double-header.
He underwent surgery to stabilise his ankle on Sunday night and he is expected to undergo further surgery when he is transferred to a facility in Indianapolis in the coming days.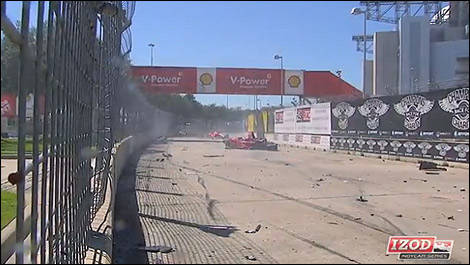 Caption: IZOD IndyCar